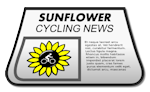 The Sunflower Cycling News is a periodic publication of Kansas Cyclist, featuring a compendium of hand-picked bicycling-related news items from Kansas and elsewhere.
The following is a recap of recent bicycling news from the region, as well as a look ahead to upcoming rides, tours, races, and bicycling events.
---
Bicycling News from Kansas
Man sentenced to 11 years in Wichita bicyclist's death
A motorist who ran over and killed a bicyclist after he was out celebrating his birthday last year has been sentenced to more than 11 years in prison, according to the Sedgwick County District Attorney's Office. Randall Duane Myers, 36, was given 138 months on a count of second-degree reckless murder and six months for misdemeanor driving under the influence in connection with the Jan. 9, 2014 collision that killed 34-year-old Christina R. Brown.
Olathe Subaru supports local cycling team
Cycling enthusiasts will fill Olathe Subaru on Feb. 21 in an afternoon event that will help support and promote junior cycling in the Kansas City area. The February event is another example of Olathe Subaru's increased participation in cycling. The dealership became the main sponsor this year for the Olathe Subaru Cycling team.
Cyclist Karl Ryan files for Salina city commission
Ryan, who is a cyclist, said he is pleased with both the street improvements made by the city and a bicycle map approved last week by planning commissioners. "I think the more we improve the (bicycle) routes the better," he said.
Apply For 2015 Sunflower Foundation Trail Grants
The Sunflower Foundation has announced a new Request for Proposals to build trails in Kansas. The application deadline is March 11, 2015.
Bill To Eliminate Kansas Mandatory Sidepath Law Introduced
KS HB 2068, clarifies KS cyclist has right 2 road,removes wording that puts bicyclist in unsafe situations.
Teen on bicycle critically hurt in hit-and-run
Wichita police are seeking assistance from the public to help them find whoever struck and critically injured a teenage boy riding his bike on Hydraulic on Thursday night (January 15).
Celebrating Dad's 81st With A Bike Ride On The Flint Hills Nature Trail
In celebration of my Dad's 81st birthday we took him to ride 25 miles on the Flint hills Nature Trail. Nothing he loves more than being outdoors.
Topeka Recruits Bicycle Repair Technician For Bikeshare Program
Topeka Metro is seeking a bicycle mechanic for maintenance and repair of its fleet of shared bicycles. This individual will be responsible for repairing bikes in the field, as well as performing repair and preventive maintenance from Topeka Metro facilities.
Topeka Bikeways planner Julie Anderson has been hired as the new bike/ped coordinator for Denton, Texas
The city of Denton has appointed Julie Anderson to its new position of bicycle and pedestrian coordinator. For the past two years, Anderson has worked for both the city of Topeka and the Topeka Metropolitan Transit Authority in Kansas promoting a bicycle- and pedestrian-friendly culture as the bicycle coordinator and multi-modal planner.
Plenty of Lawrence students want to bike, walk to school, study says
About 15 percent of K-8 students in Lawrence public and private schools walk or bike between home and school, which is practically identical to the nationwide rate. But there is a sizable demand among students to do more of it, area health officials said Monday.
2015 could be big for trails in Pittsburg
The coming year will likely mean one trail is fully constructed while another one could see construction start within city limits. The East-West Connector and the South Rouse trails both are expected to see major steps forward in the coming year. Other trails listed in the city's five-year capital improvement projects are little more than ideas on paper at this time.
Bicycling Event News
2015 Cottonwood 200 Registration Open
The Cottonwood 200 takes place over Memorial Day Weekend, May 23-25, 2015. The short three-day supported tour begins in Topeka, journeys to Cottonwood Falls, and overnights at Council Grove.
Biking Across Kansas 2015 Route Announced
Biking Across Kansas, the annual week-long supported tour across the Sunflower State, has announced their 2015 route, which crosses the central tier of the state, for a total of about 502 miles, June 6-13, 2015. Stops along the 502-mile route include Johnson City, Lakin, Jetmore, Larned, Sterling, Goessel, Council Grove, Baldwin City, and Louisburg.
Kandango 2015 Features New Route, Entertainment
The 2015 edition of the three-day bicycle tour on the back roads of central Kansas offers a new route with new overnight stops. The route goes from Hays to Junction City, with overnights in Hays, Wilson, and Abilene.
Meet in the Middle Bicycle Festival
A new bicycling event is on the calendar, this one a 3-4-day festival that takes place in Smith Center, Kansas, focused on promoting bicycling, tourism, and exploration at the geographical center of the United States. July 30 – August 2.
RAGBRAI Route Announced
For the first time since the first RAGBRAI, Iowa's annual cycling circus will launch from Sioux City and end in Davenport. "It's kind of a neat thing taking us back to 1973," said T.J. Juskiewicz, director of the Register's Annual Great Bicycle Ride Across Iowa. With 462 miles and nearly 16,000 feet of climb, the 2015 ride falls in the middle of the road for difficulty, relative to past rides.
Dirty Kanza 200 Registration a stunning success
By 9:15 a.m. on Saturday, more than 1,000 cyclists from the United States, Canada, Mexico, Germany and Norway had registered for the grueling gravel road race held in the Flint Hills each summer. The Dirty Kanza 200 takes place Saturday, May 30. A waiting list has been opened for the DK 200 and Half Pint rides.
Oklahoma Freewheel 2015 Route Announced
Hollis – Frederick – Elgin – Lindsay – Ada – McAlester – Poteau – Fort Smith, June 7-13
Regional Bicycling News
Arkansas
Little Rock City Board Kicks Complete Streets Down The Road
The Little Rock Board of Directors last Thursday voted to put off consideration of the proposed Complete Streets ordinance for at least 90-days. Little Rock continues to be stymied by a city government that thinks small and suffers from a lack of leadership.
Fort Smith Arkansas considers funding trails plan for economic development & business retention
A trail system would make Fort Smith more attractive to people and companies considering locating here. It would attract people to the riverfront since a section of the proposed trail system follows the Arkansas River. It would help attract and retain young people, and it would match at least one of the attractions that Northwest Arkansas has to offer.
What a Year of Advocacy Can Do For Arkansas Mountain Biking
It's been about a year. Central Arkansas Trail Alliance has been supporting trail access, building advocacy and maintaining local trails for about a year now as an organized group. This next year is looking like it will be another big year for CATA.
Colorado
Lottery money for bike trails under debate in Colorado
A recreational bike trail from Wyoming to New Mexico is a goal set by Colorado Gov. John Hickenlooper. A proposal before the Colorado Senate Thursday could play a part in that goal. The sponsor is Republican Sen. Larry Crowder of Alamosa. He says bike trails should be a priority in spending lottery proceeds.
Iowa
Des Moines apartment project caters to cyclists
Bike-oriented housing developments are popping up around the country, but Bici Flats would be the first in Des Moines. The project's design is aimed at cyclists. Each building will include bike storage areas, repair stands with tools and pumps, and a room for washing bikes. Individual apartments will have places to store bikes and easy-to-clean flooring from the front door to the balcony so residents can roll their bikes through without worrying about staining the carpet.
Missouri
Carthage, Missouri city council advances bike lane measures
The goal is a system of bicycle paths to make it easier for residents to reach schools, parks, shopping areas and local trails without the use of cars.
Springfield MO passes Complete Streets Policy
Congratulations, Springfield! In late December, the City Council of Springfield voted unanimously to adopt a Complete Streets policy. Community leaders and residents of Springfield has been working for many years to create safe roadways for all users, whether on foot, bicycle, bus or car.
Missouri Rep introduces bill to require bicyclists to hold insurance
Rep. Craig Redmon of Canton has introduced a bill requiring all bicyclists and non-motor vehicles such as horse-drawn buggies using Missouri state highways to carry liability insurance. With over 34,000 miles on its state highway system, Missouri cyclists can't get far within their communities or around the state without regularly riding some distance on state highways–and that means this new requirement would apply to essentially all Missouri bicyclists if it passes.
More bikes rolling up and down Grand Boulevard is a grand idea in KCMO
Putting Grand Boulevard on a road diet is the best way to fatten up Kansas City's reputation as a bike-friendly community. The city proposal would use lots of paint to re-stripe the boulevard without making more costly physical changes. On-street parking would remain next to sidewalks on both sides of the road. Bike lanes about five feet wide would be added next to the parking areas, with a buffer zone of about 2 feet added for the safety of bicyclists.
Proposed Rock Island Trail draws mixed response
Mid-Missourians crowded into the Knights of Columbus Hall on Thursday night to discuss and, more often than not, challenge a proposal to convert the old Rock Island railroad bed into a hiking and biking trail. The 145-mile pathway across Central Missouri spans from Windsor to Beaufort. Currently the property of Ameren Corp., the corridor has not been used since the mid-20th century. Advocate groups propose the railroad bed be turned into a trail for hiking and biking. The authorization to convert the railway is pending approval from the U.S. Department of Transportation Surface Board. The proposed plan would not do away with the railway itself. Instead, it calls for railbanking, so the railway still would have the possibility to reinstate train traffic. "Without interim trail use, there's no future potential for rail service," said Bill Bryan, director of Missouri state parks.
Missouri Farm Bureau: "We oppose any effort to create a recreational trail."
Just as was the case with the Katy Trail, however, some landowners along the proposed new corridor are opposed to a public trail on what was once a rail line. So is the Missouri Farm Bureau Federation.
Nebraska
City could do N Street bikeway for much less, Lincoln NE councilman says
City leaders had to look under the proverbial couch cushions to find enough money to pay for protected two-way bike lanes along N Street in downtown Lincoln. Money for the $3.2 million project is coming from about a dozen sources. Councilman Jon Camp said the city could put in a bikeway like ones he saw on a trip to China for one-tenth of what will be spent on the 17-block protected bikeway through downtown Lincoln.
New bridge spans Wilderness Park trail in Lincoln, NE
Wilderness Park, a rugged 7-mile-long strip of trees, meadows and trails in southwest Lincoln, got a special delivery Monday. A crane gently lifted a 40-ton recreational trail bridge across Salt Creek and lowered it onto concrete abutments. The 139-foot span replaces a bridge closed by the city in 2010 after an inspection found structural issues.
Lawmaker gears up for push to improve bicycling safety laws in Nebraska
State Sen. Rick Kolowski has introduced two bills in the Nebraska Legislature to stiffen penalties and seek a larger cushion of safety between bikes and cars. Legislative Bill 39 would require motorists to follow the same rules of the road when passing a bicycle as they do when passing a car: that means changing lanes to pass on a four-lane roadway, and crossing the center line to pass on a two-lane road. LB 39 would also repeal a 1968 "mandatory sidepath" law that requires cyclists to utilize a bike path if one exists adjacent to a roadway.
Oklahoma
Oklahoma City Weighs 3-Foot Passing Rule — For Cyclists, Not Drivers
A proposed law in Oklahoma City would crack down on cyclists who pass cars too closely. Seriously. Local elected officials will soon consider a piece of "safety" legislation that would require cyclists to give three feet when passing motorists.
Is OKC ready to become a "Bicycle Friendly Community"?
In August 2014, OBS collaborated with OKC City Planners to submit an application to the League of American Bicyclists to be designated as a "Bicycle Friendly Community". In November OKC was awarded the "Honorable Mention" designation. Along with that designation, the L.A.B. provided suggestions for how OKC could move up to the "Bronze" level.
Interesting Bicycling News from Elsewhere
Bill would require neon clothes, government ID for cyclists in Wyoming
Two hundred square inches of reflective neon could become required equipment for cyclists, along with government-issued identification, if legislators support a bill that came before the state House on Thursday.
Cyclist fights ticket for using full lane, and wins
As more cyclists take to the roads, the rift over how much of the road should be shared with riders has been hotly contested, even when laws exist that define their rights, though not as precisely as some lawyers would like.
Read This If You're Thinking About Riding Your Bike in the Snow
It's 10 below freezing. The wind is whipping. Snow is starting to fall. For a growing community of winter cyclists in Milwaukee, that sounds like the perfect weather to bring out the bike. Year-round cycling is on the rise in the Midwest city — where winter lows can go south of zero. It's a trend that debunks critics around the country who say bike lanes will only be used in fair weather. "Winter's just a fact of life in Wisconsin — it is what it is," says Kristin Bennett, the city's bicycle/pedestrian transportation coordinator. "People have the same travel needs no matter the time of the year."
Cyclists should be licensed to ride
This comes up periodically as a knee jerk reaction from drivers that's not well thought out. Forcing a bicycle license will do little to cut down on infractions and accidents, just as drivers licenses and citations don't stop hundreds of thousands of drivers from running red lights, speeding, cutting people off, and running people over. Since cars are primarily responsible for damage to road infrastructure as a result of their higher mass and faster velocity I, as a cyclist, am subsidizing the repair of infrastructure that I do not use and am not responsible for damaging. You're welcome.
People vs. Machines – It's time to end the war on people
Our transportation system is breaking down. We have built a system we can't afford. To even close the funding gap to maintain existing roads and bridges would require tremendous tax increases. A balanced transportation system, with increased support for biking, walking and transit, would be more affordable and safer for everyone. Personal liberty is enhanced by a transportation system with more options to get around.
January Photos
---
If you have a news item or upcoming event you'd like to share, please contact Kansas Cyclist with details.