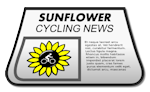 The Sunflower Cycling News is a periodic publication of Kansas Cyclist, featuring a compendium of hand-picked bicycling-related news items from Kansas and neighboring states.
The following is a recap of recent bicycling news from the region, as well as a look ahead to upcoming rides, races, and bicycling events coming up.
---
Editor's Note: I was out on tour last week, and missed the last edition of the Sunflower Cycling News. So this one may be a little extra long!
Bicycling News from Kansas
Manhattan Infrastructure Improvements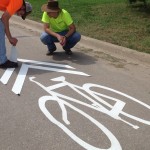 Manhattan recently installed some new infrastructure on the ground: "The Manhattan Traffic crew were hard at work today painting bike sharrows. These sharrows are part of the bicycle boulevards that are going in for this year. The new bicycle boulevards are on Laramie Street and Humbolt Street. Moro Street bicycle boulevard is going to extend into the Aggieville area. Another part of the improvements happening in Manhattan today are the bike lanes being marked on 11th Street. Currently this bike lane will be between Poyntz Avenue and Anderson Avenue. These improvements are part of a strategic five-year plan that the City of Manhattan has produced for bicycles." [link]
Child transported by LifeStar after being struck by vehicle in Lawrence
"A 4-year-old Lawrence child is in stable condition after sustaining serious injuries this evening when he was hit by a vehicle while riding a bicycle. The incident occurred at about 4:50 p.m. when a 16-year-old boy backed out of his driveway in the 900 block of Westfield Court and into the child." [link]
Baxter Springs Trails Proposed
"Commissioners also met with Steve Bolek, a Baxter Springs businessman and member of the city's economic development committee, who hopes to develop a walking/bicycle trail on the site of two abandoned railroad tracks in the area. Bolek approached the commissioners office merely for a letter of support in the matter, which he hopes will be an asset to the county as a whole. Bolek said the trail would be almost like a state park, with walking, biking and rest areas along the way, adding that the proposed asphalt trail would connect the communities of Columbus, Baxter Springs, Riverton and Galena, with similar trails now existing in communities such as Joplin, Mo." [link]
N.Y. duo traverses Kansas on cross-country ride
"Acting on a far-fetched dream, Ken Korb and Greg Salwen set out to see the country this summer on two wheels. Korb and Salwen left New York on July 4 and hope to finish their journey in Los Angeles in mid-October. "We're actually having the luckiest Kansas ride ever," Salwen said in reference to the unseasonably cool temperatures of late. "It's just been nice terrain, nice people and really long stretches of no traffic."" [link]
Leavenworth County Residents Regret Loss Of Trail Corridors
Residents of Leavenworth County are now coming to terms with the short-sighted decisions of their leaders to not pursue rail-trail developments when they had the chance: Leavenworth County "could have built more connecting trails in the 1980s. At that time, through the Rails to Trails Conservancy, there was an opportunity for the county to have a more connective trails system when abandoned railways started being transformed into trails. But Leavenworth County Commissioners instead approved returning the railways to property owners." [link]
Wichita Bike/Ped Count Volunteers Needed
The Wichita Area Metropolitan Planning Organization is asking for volunteers to help conduct a bike/ped traffic count on September 12th and 14th at a number of locations around the region. sign up, view flyer
Motorcycle Group Helps Injured Topeka Bicyclist
"Three months ago, 12-year old Rylee Robinson was riding her bike on a gravel road when she was struck by a vehicle. That incident has left her in critical condition and she has been recovering at a rehab center in Nebraska. Warrior Brotherhood Motorcycle Club is renovating Rylee's house to make it wheelchair accessible. Warrior's Brotherhood is a group of veterans that helps other veterans. Rylee's father is deployed in Afghanistan. Friends of Rylee say she should return home in the coming weeks." [link]
Silver Lake Police chief works to get helmets on bicycle riders
"Six years ago, a tragedy spurred the Silver Lake police chief to begin a campaign to get bicycle helmets in the hands of all bicycle riders in Silver Lake. Since 2007 he has given out more than 500 helmets, thanks to grants from Kansas Safe Kids. While he is pleased to have provided so many helmets, Call is frustrated because he rarely sees anyone wearing them in Silver Lake." [link]
Fort Scott Riverfront Trails Construction To Start in 2014
"Riverfront Park, which will be located where the Marmaton River and Mill Creek meet, is ready to have bids to be let after the first of the year. The plans call for a bicycle/pedestrian trail, a canoe launch, an RV area, an event pavilion, a playground and historical points of interest to support Fort Scott National Historic Site's educational program. It's anticipated that the trail north of the Marmaton River will be completed before the end of 2014." [link]
Mill Creek Streamway Closure in Olathe
"A small 1.25 mile section of the Mill Creek Streamway Trail is scheduled to close this week for resurfacing and maintenance. The two week closure will occur between the Northgate and Northwoods trailheads. Woodland Avenue just to the west of the trail has bike lanes and is a good alternative during the trail closure." [link]
Regional Bicycling News
— Little Rock, AR: Little Rock Makes Outside Magazine's 2013 Best Towns List — "The magazine wanted to find the best places to be healthy around the country, looking at the abundance of trails, nearby adventure, fantastic farmers markets and competitive gear market. The Arkansas River Trail has numerous access points on both sides of the river and is open to cyclists, walkers and runners." No Kansas towns made the list. 🙁
— Little Rock, AR: UALR Debuts Bicycle Patrols To Increase Security On Campus — As the new school year begins, students at the University of Arkansas at Little Rock will see a new addition to their campus: officers on bicycle patrol. UALR Police Chief Edward Smith says having officers patrolling the campus on bicycles will give them an advantage over patrolling in cars. By instituting a bike patrol, officers are more visible, they have more contact with students, faculty, staff, they are able to get around on campus and get into the middle of campus."
— Boulder, CO: Boulder to test bike innovations — "Boulder will be testing new features and programs for cyclists this summer and fall as part of what city officials are calling a 'Living Laboratory.' The city will be running several bicycle "treatments" and pilot programs this year and seeking feedback from the public on how well they work." Projects include: Back-in angled parking, Buffered bike lanes, Protected cycle tracks, Advisory bike lane, Bike Box, Bike Boulevard, and Electric-assisted bicycle on multi-use paths.
— Fort Collins, CO: Momentum building for 'stop-as-yield' policy — "The goals of implementing stop-as-yield in Fort Collins are to improve bicycling safety, increase bicycling, and establish bicycling as a safe, comfortable and efficient mode of travel."
— Colorado: World class cycling & beef continue partnership in Colorado — "Some thought it couldn't be done. You couldn't convince world class Tour de France caliber cyclists to come from Europe to race in Colorado at 8,000 to 12,000-ft. elevations. You couldn't get thousands and thousands of spectators to watch such an event in Bronco/Rockies/Avalanche/Nuggets territory. And an upscale burger chain to be a founding sponsor? Right. Yet the third annual USA ProCycling Challenge is set to kick off Monday, Aug. 19 in Aspen, with 16 top international teams fielding dozens of the world's top cyclists. And founding partner Smashburger — itself growing and expanding in tough, demanding conditions — will again fly its banner over the start/finish lines."
— Indianola, IA: Indianola council rejects bike trail expansion for now — "The Indianola city council voted against a proposal to expand the Jerry Kelley trail system Monday, despite requests from residents, including one from a a woman who was hit by a car while riding her bicycle last week. About 15 people attended the meeting to support the trails."
— Keokuk, IA: Keokuk needs bike trails, citizen says — "Keokuk citizen Anne Pietscher encouraged the Keokuk City Council Thursday to forge ahead with bike trails, including one from Tolmie to McCredie Park. 'A trail like this would be a great asset if Keokuk is talking about tourism.'"
— Cape Girardeau, MO: Bikes on Broadway — "Some cyclists are upset about new signs that have been erected on Broadway that prohibit riding bicycles on the sidewalks. Actually, the signs don't prohibit the riding; the ordinances do. And that's the point the city is trying to make. Bicycles are not allowed on the sidewalks in the city, and haven't been for a long time. In fact, laws across the land recognize bicycles as vehicles, which belong on the roadways."
— Washington, MO: MO River Bridge, with bike/ped connection, officially added to regional funding plan — "Creating safe bike/ped crossings of major rivers in Missouri, and particularly creating safe river crossings connecting the Katy Trail to nearby communities, has been a top priority of MoBikeFed's Vision for Bicycling and Walking in Missouri. Washington is the last major Katy Trail river crossing remaining to be built in Missouri, and will join Booneville, Page Ave, Hermann, Jefferson City crossings–most of those completed in just the past 10 years–in connecting the Katy Trail to a nearby city across the river."
— Grand Island, NE: Nebraska State Fair Bike Barn open for business — "Locals who want 'walk-right-in' access to the Nebraska State Fair with very little parking effort may want to consider riding their bicycle to the fair. The Bike Barn is staffed each day of the fair to keep the bicycles secure until their owners return. The barn works very similar to a coat check, only handling bicycles. The barn is free and open daily from 9 a.m. to 8 p.m. Grand Island has numerous hike and bike trails that lead into the fairgrounds."
— Omaha, NE: Retired officer's dream of change means bikes and running shoes for disadvantaged youths — "Cycling and running had meant a lot to Petersen and helped shape who he became, so he thought maybe the same things might instill self-esteem in some of these children to keep them from turning to gangs. "A lot of those kids never had a chance to ride a bike, or even be out and about to run around. I'd see it all the time," Petersen said. Running and biking can be a vehicle for social change. Every kid should have the same opportunity."
— Bethany, OK: Cyclist killed during charity event — Bethany police have identified the victim of Saturday's fatal bike accident as 36-year-old Chance Toles. Toles was finishing a 100-mile bike ride as part of Spin Your Wheels, an annual charity event raising money for The Children's Center in Bethany. 'For some unknown reason, it seems like he lost control of the bicycle and when he lost control, he tipped over towards his left and he fell into the lane of traffic.'"
— Tulsa, OK: Bicyclist Tased By Police After Being Stopped For Not Having Lights and Riding The Wrong Way — "Police arrested a 44-year-old man following a traffic stop that turned into a foot chase early Thursday morning in north Tulsa. Tulsa Police pulled over Cleo Lyles on his bicycle for not having a light activated on the front and for riding in the west bound lane while traveling east bound. Officers attempted to take him into custody but he would not cooperate with officers. Police managed to subdue him after using a taser."
Event News
This coming weekend features a number of great bicycling events in Kansas, including:
— Cruise the Blues mountain bike festival near Tipton.
— PedalFest features 50k or 100k leisure bike rides through the scenic countryside around Wichita.
— Rock & Roll to Roots offers 10, 20, and 40-mile routes in Paola.
— The 24th Annual Tour de Shawnee features 12-mile or 25-mile routes.
Elsewhere around the region, events include Onabike and The Courage Ride in Iowa, BikeMO, the KC Century Bike Ride, and the Summer Breeze in Missouri, and Gravel Worlds and the Heatstroke 100 in Nebraska.
Looking forward to the following weekend, plan ahead for the Gorilla Century, the Dickinson County Bike Ride, and Bike 4 the Brain.
See also: Kansas Ride Calendar, Regional Ride Calendar
Bicycling Inspiration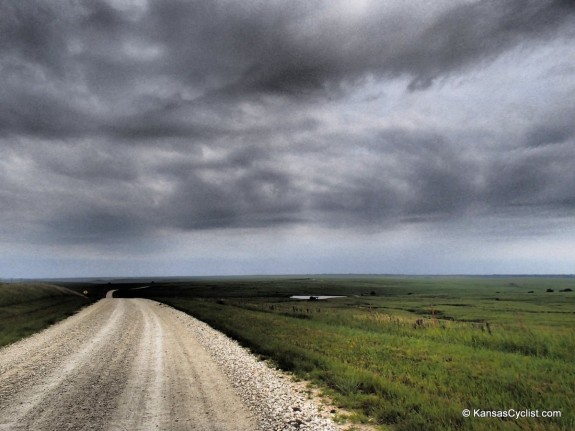 I'm planning to do a full post about my tour, but for now, here's one of my favorite images from the trip.
We'd been riding gravel roads for several hours through the rugged Flint Hills, and I suddenly topped a hill and came across this vista that stopped me in my tracks. It was a cloudy day with storm clouds threatening, and we could see for miles off into the distance. It took my breath away. Perfect spot for a little picnic as we took in the beauty of Kansas. The photo doesn't come close to doing it justice…
---
If you have a news item or upcoming event you'd like to share, please contact Kansas Cyclist with details.
Post tags: Baxter Springs, Digest, Fort Scott, Lawrence, Manhattan, Wichita