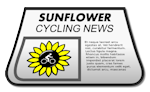 The Sunflower Cycling News is a periodic publication of Kansas Cyclist, featuring a compendium of hand-picked bicycling-related news items from Kansas and neighboring states.
The following is a recap of recent bicycling news from the region, as well as a look ahead to upcoming rides, races, and bicycling events coming up.
---
Bicycling News from Kansas
Topeka Hit-and-Run Driver Still At Large
Topeka police are still searching for the vehicle and driver that struck a cyclist on May 16th.
The bicyclist, Andy Fry, reports that "My hand was broken from impact w/ the ground and legs got scuffed up. This is NOT a reason to not ride. This is but a reason to continue implementing transportation infrastructure that is friendly to bikes ie sharrows, bikelanes, bikeways etc, as well as the education and public outreach that should accompany them."
The vehicle that struck Andy was a newer black Dodge Challenger with right front end damage (police found black trim from around his right headlight at the scene).
If you see a vehicle matching this description, the Topeka police may be contacted confidentially at 785-234-0007 or 1-800-222 TIPS(8477). Or tips may be texted to "CRIMES (274637)"; use "TIP128" at the start of the message.
Salina Bike Thief Gets Probation, No Jail Time
Stephen Rowson, one of two men who burglarized a number of business in Salina, including Bike Tek, won't be going to jail for his crimes: "Even though Rowson plead no contest to 13 felonies and five misdemeanors, according to the Kansas Sentencing Guidelines the maximum sentence Rowson could get is 28 months probation because he has a minimal criminal history. Both victims and the prosecutors say the punishment doesn't fit the crime." [link]
Southwind Rail Trail Grand Opening June 8th in Iola

"The Southwind Rail Trail is holding a grand opening event on June 8th in Iola. This 6-mile trail between Iola and Humboldt features a crushed limestone surface, and several scenic points, including the magnificent Elm Creek railroad bridge." [link]
Learn more about the Southwind Rail Trail.
McPherson County Commissioners Urged To Support Trails
"A recent letter in the McPherson Sentinel urges County Commissioners to see through the lies from anti-trail zealots, and to 'educate themselves on the benefits of trails and their positive impact on communities'." [link]
Redbud Trail Workday June 1st
The Andover-Augusta RailTrail Initiative is holding a Redbud Trail workday on June 1st, 8am to noon, in Andover. They're planning to pick up trash, pull weeds, trim trees, and haul brush. See flyer.
Lawrence seeking input on bike, transit and park & ride study
"The Lawrence- Douglas County MPO staff have announced a public meeting and the launch of a set of interactive, on-line maps for city and county residents to leave comments and discuss Douglas County's future transportation systems. This public outreach effort is part of a 3-tiered project to develop Douglas County's first county-wide bicycle transportation plan." [link]
The open house is Wednesday, June 5 from 4:30 to 7:30 p.m. at the Lawrence Union Pacific Depot. Learn more at lawrenceks.org.
KCK youth riding bicycle struck by vehicle in Shawnee
"The accident occurred about 8:30 a.m. Wednesday at 51st and Halsey streets. The 12-year-old boy was riding his bicycle south on Halsey attempting to cross 51st Street when he was struck by a vehicle that was headed east on 51st Street. The boy was taken to an area hospital, according to the Shawnee Police Department. The driver of the vehicle stayed on scene and was cooperating in the investigation, reports said." [link]
Celebrate National Trails Day 2013 in Kansas
"Kansas will celebrate National Trails Day on June 1st, with events and festivities in communities throughout the state." [link]
Arkansas City preparing for Bike Across Kansas
"We want to be sure to make the best impression for these riders," said City Manager Nick Hernandez. "This is what tourism is all about. "We should do everything we can to make sure these folks want to come back and enjoy Arkansas City. The impact that this event will have on our town and your business or nonprofit organization is big. Not often are we given the opportunity to have 940 hungry people in our hometown overnight. Let's help them spend their money." [link]
2013 National Bike Challenge Update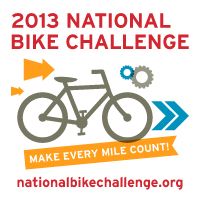 As the first month of this year's National Bike Challenge draws to a close, here's a snapshot of where things stand, as of this writing:
— Kansas is #9 in the nation, with 330 riders, covering about 54,000 miles.
— Two Topeka-area cyclists, Eric Nordgren and Joe Jordan, are currently #1 and #2 in the national rider rankings
— Two Topeka-area teams, Topeka Ol' Phogeys and Kansas Krank Addicts, are battling it out for the top spot in the Kansas team rankings
— Topeka Ol' Phogeys is #1 in the national "small team" rankings
— Regionally, Nebraska is #3 in the nation (1634 riders, ~184,000 miles), Colorado is #4 (1384/~161,000), Iowa is #6 (857/~93,000), Missouri is #35 (193/~26,000), Arkansas #37 (124/~10,000), and Oklahoma #43 (11/~10,000).
Nationally, nearly 29,000 riders from all 50 states have pedaled over 3.2 million miles.
If you're participating (and if not, why not?!), make sure to log all your miles. Every ride over 1 mile in length counts — ride to work, ride to the store, ride to church, ride for fun, whatever. May miles must be logged by midnight on Friday, May 31 to count towards the rankings.
Regional Bicycling News
–Helena-West Helena, AR: Truck hits, kills child riding bike — "A Mid-South community grieves the loss of a seven-year-old girl who was hit a killed by a truck while riding her bike. Balloons and a stuffed bear mark a spot Mykayla Hawkins was hit. Police said the driver of the truck, Arthur English, in his late 70s called 911. He is an amputee and a diabetic on medications and probably should not have been driving. He was charged with negligent homicide and inattentive driving."
— Colorado: More than roads: Don't leave trails out of transportation discussion — Former Republican Senator Wayne Allard of Colorado, writing on TheHill.com: "Out of this bipartisan consideration, the Recreational Trails Program (RTP) emerged as an equitable way to fund the nation's vast system of trails. I cannot stress enough the importance of this program. Trails are a powerful driver of tourism and rural economies."
— Boulder, CO: Boulder cop mistakenly tickets pair of pro cyclists — "Two professional Boulder cyclists were ticketed for riding more than two-abreast before the Boulder officer called them early the next morning and admitted she had misinterpreted the law. Duke said while she acknowledges there are some cyclists who ignore the rules of the road, she thinks cyclists in Boulder are unfairly targeted. 'I just wish that some of these police officers would get on a bike and ride in traffic and see what we have to deal with,' Duke said."
— Iowa: Trail closures due to due to flooding — A list of Iowa trails that are closed due to high water. There are currently 11 trails closed in whole or in part, primarily in the Des Moines area.
— Boonville, MO: Pedaler's Jamboree Goes On Despite Wet Weekend — "On Saturday, music could be heard throughout the night at Kemper Park as a number of bands entertained peddlers as they camped out Saturday and into Sunday at the park. The Pedaler's Jamboree, in its fifth year, entertained over 3,000 bicycle riders from May 25-27. Boonville Tourism Director Lisa McClary said the event provides a huge economic impact to all communities it pedals through. She said all hotel rooms in Boonville were booked, some a year in advance."
— Kansas City, MO: Dare to Rent a B-cycle — "Destination: the Missouri River. On a bike. Through downtown. Drivers do seem aware of me, and except for a couple of tricky maneuvers around a Metro bus and a FedEx truck, the ride is safe. And fun. You can do this, summer adventurers."
— Lincoln, NE: Moving day on bicycles, making the couch fit — "The Cycle Works service manager decided to move from his apartment on 11th Street to a rental house on Ryons, 2 miles away, in perfect bike lover's fashion. All bike, all the way. Even the big stuff. The cycling advocate decided to move by pedal power for a couple of reasons. 'I had two weeks to move everything and I've always thought it was a cool idea.' And: 'A friend of mine told me I couldn't do it.' And: Andy made a $20 bet with that friend that he could."
— Oklahoma: Oklahoma lags behind in making biking a commitment — "One person at ODOT, the Oklahoma Department of Transportation, has a token appointment for bicycling issues. It's a very small percentage of their job responsibilities and they just really do not have any time to dedicate to bicycling issues. Oklahoma continues to lag behind in making a real commitment to bicycling as a viable form of transportation."
Event News
— The Late Night Under The Lights series of training races for kids and adults begins tonight. The 2013 dates for these races are May 29, June 26, July 10, and July 24, in Leavenworth.
— The Kandango tour begins in Salina KS May 30th.
— The Wichita area hosts a weekend of races, with the Kansas Adaptive Cycling Omnium on May 31st, the Kechi Time Trial on June 1st, the Bicycle X-Change Criterium Race on June 1st, and the SPECS Wichita Riverfest Criterium Race on June 2nd.
— The Dirty Kanza 200 gravel grinder takes place on June 1st, starting and ending in Emporia.
— Miles for Mikal is a benefit ride that takes place in Claflin, Kansas on June 1st to help support a young girl critically injured in a bicycling accident.
— Joel's Ride: Wheels for Meals takes place on June 2nd, with 10, 25, and 40-mile bike rides through southern Johnson County to benefit a variety of social justice agencies.
— Tour de Cure: Kansas City raises money for the American Diabetes Association, starting and ending at Wyandotte County Park in Bonner Springs, Kansas, on June 2nd.
See also: Kansas Ride Calendar, Regional Ride Calendar
Bicycling Inspiration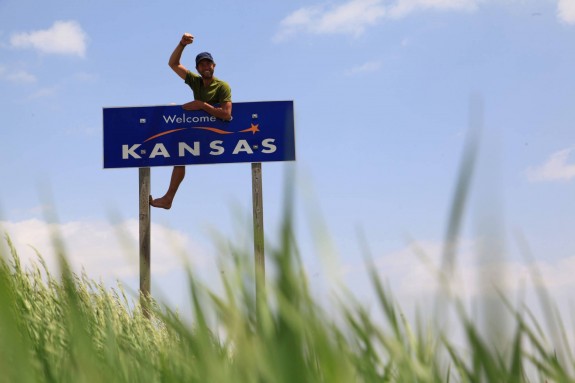 This photo comes from Rob Greenfield, who's doing a tour he calls the "Off the Grid Coast to Coast Bicycle Tour". He's currently making his way from Denver to Kansas City, riding barefoot. He's raising money for 1% for the Planet grass-root organizations that will truly make the world a better place with your money. You can learn more about Rob's tour, and follow his progress, at GreenfieldAdventures.org.
Awesome shot, Rob!
---
If you have a news item or upcoming event you'd like to share, please contact Kansas Cyclist with details.