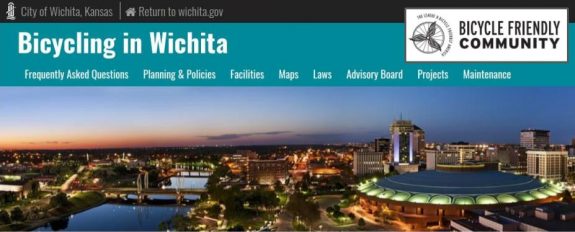 The League of American Bicyclists has announced their latest round of Bicycle Friendly Communities, and Wichita has been added to the rolls at the bronze level.
Wichita joins Lawrence, Manhattan, Shawnee, and Topeka on the BFC list, all at the bronze level, among over 400 such communities nationwide.
The Bicycle Friendly Communities program seeks to recognize communities that "welcome bicyclists by providing safe accommodations for bicycling and encouraging people to bike for transportation and recreation. Making bicycling safe and convenient are keys to improving public health, reducing traffic congestion, improving air quality and improving quality of life."
Wichita has been making significant strides in recent years, adopting a Bicycle Master Plan in 2013, and is in the process of adding numerous on-street and off-street biking facilities. The Wichita bike share program, Bike Share ICT, launched in 2017.
The city maintains a "Bicycling in Wichita" portal that provides news and maps. The Bike Walk Wichita advocacy organization has been actively working to make the city a safer place to bike and walk. Wichita's trail community has led the way in expanding the area's trails, such as the Prairie Sunset Trail, the Redbud Trail, and the Air Capital Memorial Park Trail.
Congrats to the Wichita cycling community — well done, and keep up the good work!
Post tags: Bicycle Friendly, Wichita