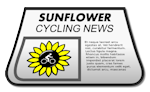 The Sunflower Cycling News is a periodic publication of Kansas Cyclist, featuring a compendium of hand-picked bicycling-related news items from Kansas and neighboring states.
The following is a recap of recent bicycling news from the region, as well as a look ahead to upcoming rides, races, and bicycling events coming up.
---
Bicycling News from Kansas
Derby Aviation Pathway Planned for 2016
The Derby Planning Commission recently reviewed their capital improvement plan and budget, which focuses on both immediate and planned projects, including bike/ped: "The Hike and Bike Path system will receive routine maintenance in 2014, but the city is now projecting the Aviation Pathway – connecting the city system to Wichita near the Spirit AeroSystems complex – will happen in 2016." [link]
Doniphan County Supports Rails to Trails Initiatives
"On June 17, 2013, the Doniphan County Commissioners passed a resolution to support the MPO's Rail to Trail Inventory and any future projects. The Commissioners mentioned that it was a part of their larger economic development plan to bring tourists into the County with more hiking and biking trails, and were excited that the MPO was moving forward with the study into implementation." [link]
Douglas County Bike/Ped Counts Planned for September
"Your help is needed to count bicyclists and pedestrians! Data collected on bicycling and walking will assist City and Regional Leaders with estimating usage and demand for bicycle and pedestrian facilities. The counts will also be used to track the region's progress on increasing the use of non-motorized transportation, strengthen grant applications to leverage additional federal funding for bicycle and pedestrian projects, evaluate existing projects, and help determine the location of future investments." [link]
The bike/ped counts are scheduled for several days in September, in Lawrence, Eudora and Baldwin City. If you can volunteer, please contact Jessica Mortinger at jmortinger@lawrenceks.org or (785) 832-3165.
The ups and downs of Shawnee's Johnson Drive
This article is not strictly cycling-related, but Johnson Drive in Shawnee is a popular (and fun!) bike route, and a great place to do hill repeats or work on your climbing technique: "Until I moved to Shawnee, I'd never seen any hilly place quite like Johnson Drive. Ask folks around here about it, and they routinely respond: 'Oh, you mean the roller coaster.' I couldn't tell whether the cyclists and runners I saw along the way were brave or delusional with heatstroke."
Roger Harrison – The Lanterne Rouge
Prologue Cycling Magazine offers us a profile of a tireless promoter and supporter of cycling: "Roger Harrison has been a local staple on the cycling circuit for fifteen years now after first being introduced to triathlons by his friend, Brendan Sheehan. Over the course of those fifteen years Roger has volunteered at, in his best estimate, 175 events. It doesn't matter if it is a summer criterium in 106 degree heat or a winter cyclocross race in sub-zero temperatures, Roger is usually there and he is usually volunteering his time to assist in some way. Founder of the Lanterne Rouge Volunteer Group, Roger's mission is to support local racing and make racing safer for all participants." [link]
You can check out Roger's web site at LanterneRougeKansas.com, as well as his Flickr Photostream of event photos. Thanks for all you do, Roger!
The New Bike-Friendly Amelia Earhart Memorial Bridge

"The new Amelia Earhart Memorial Bridge at Atchison, Kansas now features wide, bicycle-friendly shoulders for a stress-free crossing of the Missouri River. Kudos to KDOT and MoDot for a job well done!" [link]
Regional Bicycling News
— Little Rock, AR: Big Dam Bridge Parking Alert — "New 'No parking' signs have gone up on the Little Rock side of the BDB where park user have parallel parked along Rebsamen Park Road. Apparently, the signs were put in place by Pulaski County in response to complaints by Corps of Engineers employees at the dam. After the complaints resulted in the signs going up, additional complaints to the city about people parking within the new 'no parking' zone resulted in tickets being issued."
— Winter Park, CO: Winter Park hosts biggest enduro mountain bike race in U.S. history — "Winter Park' s Colorado Freeride Festival hosted the biggest enduro race in U.S. history over the weekend, with 216 riders from 12 countries competing in a five-stage, three-day contest that mixed hard pedaling and technical downhill in a suddenly surging discipline that promises to tear down well-worn distinctions within the sport of mountain biking."
— Yale, IA: Crack in road causes falls on RAGBRAI route — "The crack is on the RAGBRAI route east of Yale on the way to the overnight town of Perry. About four riders have been transported to a hospital from this stretch of road, Libby said. Other riders have been injured and treated without having to go to a hospital." It's odd that the county permitted tire-eating cracks, given the hullabaloo and legal repercussions from a similar issue in Crawford County, Iowa a few years ago, when a cyclist died after crashing due to a crack, and his widow sued the county for negligence: A Question of Liability.
— Scottsbluff, NE: Volunteer group proposes new trails system for Panhandle — "After spending 24 years amassing about 37,000 acres of land for public use and wildlife conservation, Platte River Basin Environments, a nonprofit corporation made up of western Nebraska sportsmen, is weighing opportunities for biking, hiking and horseback riding paths in the Wildcat Hills. The dozens of miles of proposed trails would provide outdoor enthusiasts passage into the history-laden lands of the pioneers and Native Americans, as well as offer glimpses of wildlife including golden eagles, burrowing owls, elk, deer, bighorn sheep and wild turkeys."
— Norman, OK: New designed bike racks to be installed — "A series of bike racks designed by Oklahoma artists will be installed this week in downtown Norman. The long-term goal of the Artists Designed Bike Racks Project is to increase the use of bicycles for transportation in the downtown area while also supporting the state's evolving arts culture."
More Newsworthy Links
Not necessarily local, but important news nonetheless:
— Vancouver (Canada) is planning to build a protected bikeway called the Seaside Greenway, that has been a very contentious issue in the city. A couple of interesting reactions: Relax Vancouver drivers, you can handle another bike lane, News flash for drivers: Cyclists are helping subsidize your ride
— From Australia comes further evidence of the wisdom of investing in cycling: "The economy benefits by more than $21 every time a person cycles 20 minutes to work and back and $8.50 each time a person walks 20 minutes to and from work. The construction of walking and riding paths was relatively cheap compared with other modes of transport. A bicycle path costs only about $1.5 million a kilometre to plan and build. The government has agreed that, where practical, all future urban road projects must include a safe, separated cycle way." Bike riders save economy $21 on each commute
Event News
If you're looking for a bicycling event in Kansas this coming weekend, check out the Dodge City Days Bike Ride in western Kansas, the Hudson Chicken Ride in west-central Kanssas, and Sunflowers to Roses in Overland Park.
See also: Kansas Ride Calendar, Regional Ride Calendar
Deal Alerts
Looking to save some money on cycling gear? Check out some of these deals:
— CampSaver is having it's end-of-summer clearance sale, with items up to 50% off, if you're looking for bicycle camping gear. [link]
— CycloCamping is offering 25% off on Schwalbe tires, which have a well-deserved reputation for being the most rugged and long-lasting tires for commuting and touring. Schwalbe tires are often special-order and rather pricey, so 25% off is quite the deal. [link]
— REI is holding a summer sale, with up to 50% off on selected bikes, clothing and footwear. 100% satisfaction guarantee, as always. [link]
And, of course, there's also Amazon, which has pretty much everything under the sun, plus a surprisingly wide selection of cycling gear…
Disclaimer: If you can buy from you local bike shop, by all means do so, but if there's no bike shop nearby, or if they don't carry the items you need, an online purchase is entirely appropriate, and purchasing products through these affiliate links helps to support Kansas Cyclist, at no additional cost to you!
Bicycling Inspiration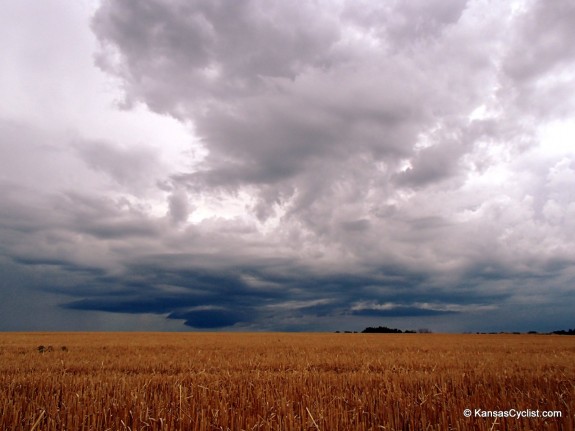 It's been a soggy week in much of the state, and while eastern Kansas hasn't seen as much moisture as the central part of the state, there has been rain, or the threat of rain, most days. This photo, from rural Franklin County, captures storm clouds over wheat stubble.
---
If you have a news item or upcoming event you'd like to share, please contact Kansas Cyclist with details.