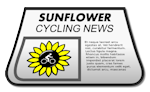 The Sunflower Cycling News is a periodic publication of Kansas Cyclist, featuring a compendium of hand-picked bicycling-related news items from Kansas and neighboring states.
The following is a recap of recent bicycling news from the region, as well as a look ahead to upcoming rides, races, and bicycling events coming up.
---
Bicycling News from Kansas
Chanute's Katy Park Trail extending south
"Chanute's mission to link all city hike and bike trails inched closer to fruition after Chanute Parks Director Dan McMillan announced the Kansas Department of Health and Environment (KDHE) awarded Chanute a grant for $56,000. With the funds, McMillan plans to extend the city hike and bike trail further south through Katy Park and to 7th Street – near the old Chanute swimming pool." [learn more]
Bicyclist Killed By Train In Emporia
A man in Emporia, Kansas died when he fell off his bicycle onto train tracks, lost consciousness, and was struck by a train on October 9th. The train tried to stop but was unable to stop in time. Michael T. Glaser, 46, was trapped underneath the BNSF train. [read more]
Holcomb To Improve Bike/Ped Safety
"Holcomb has been awarded a 2013 Safe Routes to School grant of $200,000 to improve sidewalks and pedestrian/bike safety in the community. Improvements include a 'bulb out' at the Main Street crossing that connects Holcomb Elementary and Wiley Elementary schools, construction of sidewalks along two streets, construction of handicap ramps at two intersections, new pedestrian crossing signs, remarking of crosswalks and education and encouragement activities on safety and awareness." [learn more]
New app promotes bicycling on Kansas campus
"As an avid bicyclist, graduate student Jay Decker wanted to help make biking more popular on campus. He created the RackIt App to help bicyclists at the University find places to leave their bikes. The app gives bicyclists a visual of where bike racks are located on campus. Users can search for bike racks at a specific campus location or building, and click on a particular rack to see its capacity. The app is free and currently available to Android phone users." [learn more]
Bike Rentals Envisioned for Wichita Riverfront
"Residences, a shop renting boats and bikes, lifestyle-oriented shops, restaurants and office space are the foundation of Laham's complex along the Arkansas River. Laham said the boat and bike rental shop 'is the seed'. We have to start somewhere, and Boats and Bikes is going to be a great little place where you can rent and take them out, and then go up to our retail place and have lunch, do some shopping." [learn more]
Regional Bicycling News
— Fayetteville, AR: City looks to build bike route to Evelyn Hills Shopping Center — "Cyclists could one day have an official bike route from the city's trail system to the businesses in and around Evelyn Hills Shopping Center. Members of the City Council's Transportation Committee recently voted to proceed with a plan to add bicycle lanes on North Street that connect to the Woolsey Avenue Bikeway."
— Boulder County, CO: Letter to the Cycling Community — "The county has temporarily closed several roads to cycling while we work to restore our roadway infrastructure. We recognize this may not feel fair, but we believe these closures are necessary until our roads can properly function for all modes of travel."
— Iowa City, IA: Bike Share program moves forward — "Iowa City community members could potentially see an increase in bike use with a new bike-sharing program that will allow University of Iowa faculty, students, and Iowa City residents to rent bikes. The bike-sharing program aims to increase the number of bikers and reduce car use in the downtown. Members will have the option to buy a membership or rent a bike."
— Missouri: Missouri's Ozark Trail becoming a national treasure — "The Ozark Trail, which traverses southeast and south-central Missouri, is quickly gaining recognition as one of the most beautiful and accessible trails of its type in the U.S. In the past decade, largely through an organization composed of volunteers committed to the trail's growth and preservation, the trail has gained the attention of outdoor enthusiast across North America and beyond."
— Lincoln, NE: UNLPD uses bait bikes to stop theft on campus — "University of Nebraska-Lincoln students will want to think twice before stealing a bicycle on campus. UNL police are currently using 'bait bikes,' which look like normal bicycles but are outfitted with hidden GPS systems, to help deter bike theft on campus."
— Oklahoma City, OK: OKC police car crashes into bike rider — "Police say in this case Grant rode his bike in the middle of the street without any lights on after dark, in violation of the law. While police aren't sure who caused the accident, they don't believe their officer had been distracted at the time, nor did the officer appear to be speeding or responding to an emergency."
Event News
This weekend, the Adventure Monkey Tour rolls out of Emporia, the Partridge Pedal Party festival takes place in Partridge, and the Santa Fe Trail Fall Bike Ride hits the pavement (and gravel) in Alta Vista.
Elsewhere in the region, Oklahmoa hosts the Pontotoc Pumpkin Pursuit, the Alfalfa Bill Century Bike Ride, and the Wild Horse Century and Double Century.
See also: Kansas Ride Calendar, Regional Ride Calendar
Bicycling Inspiration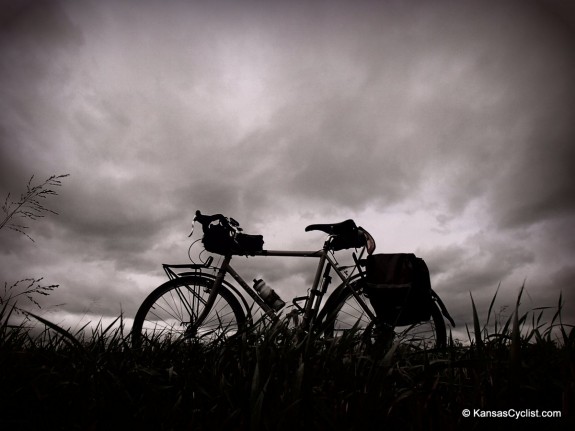 Under brooding clouds…
---
If you have a news item or upcoming event you'd like to share, please contact Kansas Cyclist with details.