Allen County Kansas has launched a new program that takes the familiar "bike share" concept and adapts it for a rural area. Allen County Bike Share is the first program of its kind in Kanas. It takes the "bike library" idea — where bicycles are available to be "checked out" by the public, but distributes the bicycles not just in a single community, but throughout the county.
The program also breaks ground by partnering with the local bike shop, Velo + Iola, to source, assemble, and maintain the bikes:
In setting up Allen County Bike Share, the support of our local bike shop has been very important. We've seen it as a way to not only help to support a local business, but to ensure fast and professional service for bicycle assembly and repairs. While the bike shop could have seen a free bike share program as unfair competition, they've chosen to look at it as a business opportunity. "We're not losing customers to bike share," Velo+ co-owner Marco DeAngelis said. "I believe that we are opening up the world of bicycles to people that may not take the chance on buying a bike. This gives us an opportunity to show what a professional bike shop has to offer over the options in town to buy bikes. We are hoping the program will get the community excited about bikes and lead to more and more people locally riding. If and when they decide to start riding, they will know they have a quality shop in town that will help them find the right fit for what they want to do on two wheels."
The Allen County Bike Share program is managed by Thrive Allen County, the local health and wellness advocacy organization behind many of the bicycle-friendly developments in the county, including the Southwind Rail-Trail, the Lehigh Portland Trails, and Iola's Complete Streets policy. The program is funded through a grant from Blue Cross Blue Shield of Kansas, which recognizes the important health-related benefits of a bicycle sharing program, and hopes that this type of bike share can become a model for other rural communities in Kansas, and beyond.
There are currently bike share stations in Iola and Humboldt, with plans to expand to other communities in Allen County.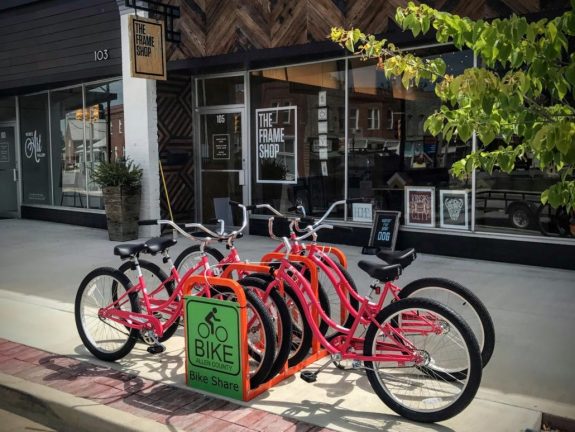 Learn more: Thrive's Innovative Approach to Rural Bike Share
Post tags: Bike Share, Humboldt, Iola