Podcast: Play in new window | Download (Duration: 1:29:53 — 123.5MB)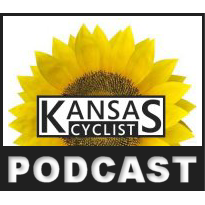 Welcome to episode number 8 of the Kansas Cyclist Podcast, which features a look behind the scenes at a large bicycling event, with interviews of a ride leader and a communications support expert. We also talk about the recently-completed RAGBRAI tour, plus bicycling news, ride previews, and trail reports.
Brian Lee Short is a HAM Radio Operator that provides communication services for many large cycling events in the midwest. He was most recently the Radio Coordinator for last weekend's Cider Mill Century Ride in Miami County, Kansas. If you've ridden any large events, you've no doubt seen the folks with their radios, shadowing the route, providing communications between rest stops, and attending to any riders who need assistance during the ride. In this fascinating interview, Brian explains how their communication systems work, and why they do what they do. These volunteers provide the critical logistical support necessary for a smooth-running and safe ride, so the next time you see one of these people on a big ride, be sure to thank them for their time and expertise. There are 22000 hams in Kansas and Missouri, and 4800 in the KC Metro area, all who would love to help anyone interested get their ham license. You can learn more at kchams.net.
We also interview Jan Hudzicki, who is the Treasurer of the Johnson County Bicycle Club and the leader of the Cider Mill Century Ride. Jan gives us a behind-the-scenes look at at what it takes to put on a large event (this year's ride had a record 597 participants). Jan is also an LCI (League Cycling Instructor), and is teaching bicycle safety classes in the Kansas City area in August and September of this year.
Finally, we talk with a local cyclist, Reed Freeman, who completed last month's RAGBRAI tour across the state of Iowa. Reed and I have been riding together for several years, and last year we rode Biking Across Kansas together. Reed has some great stories to tell about his experiences at RAGBRAI.
Here's a quick summary of the rest of the podcast, with links to more information:
Bicycling News:
Upcoming Rides and Events:
There are many more ride opportunities available nearby, so please view the regional calendar for a complete list.
Trail News:
Pittsburg, Kansas is the home of the brand new 23rd Street Bike Park, which officially opened on July 31st. Built on the site of an abandoned coal mine, and based on a loose collection of rough trails that locals had been using for years, the new park offers several miles of single track, a mountain biking skills area, a pump track, and a dirt jump area, with different levels of trails from beginner to expert.
The park was created by a group of volunteers known as the Kansas Overkill Racing Club. Since the city gave their approval in February of this year, the group has used donated equipment and materials, and many, many hours of labor, to clean up the site and make it a real bike park.
Though the park is obviously very new, it already has some great features, and more are being planned or are already in the works. In fact, the club and city hope that they can make the park into a regional attraction, drawing mountain biking enthusiasts from Kansas, Missouri, Arkansas, Oklahoma, and beyond.
Bicycle Safety Talk:
Each episode, we discuss an aspect of bicycling safety. This time, we discuss a type of collision known as "The Door Prize", where a motorist opens a car door into the path of a passing cyclist. We discuss how to recognize and avoid this type of collision. Thanks to BicycleSafe.com for the safety tips.

And thanks also to Mark Franzke, who's graciously provided original music for the Kansas Cyclist Podcast. You can find out more about Mark and his music and art by going to Banjodog.com.
As always, we hope you'll listen to the Kansas Cyclist Podcast, and consider subscribing to future episodes. We welcome your feedback, so please send in your comments or suggestions.