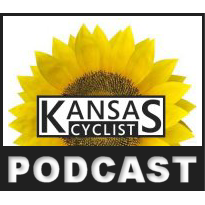 Episode number 7 of the Kansas Cyclist Podcast is focused on bicycle touring, which is an increasingly popular way for people to travel around the country (or the world).
First up, we have an interview with a group of young people bicycling across the United States on a tour called the Journey of Hope. The Journey of Hope reaches out to people through newspapers, radio and television, civic groups and community leaders, bringing to the forefront the abilities of people with disabilities. There are three Journey of Hope teams, which start on the west coast and converge on Washington, D.C. The team we spoke with was cycling the TransAm route, which started in Seattle and crossed the central part of the nation. They'd entered Kansas in the southwestern part of the state and exited after overnighting in Olathe. We caught up with them in Sedalia, Missouri. You can follow their trip on the Journey of Hope web site.
This episode also features an interview with Tim & Cindie Travis, an ordinary American couple who decided to live out their dreams by saving their money, quitting their jobs, selling all their possessions, and then setting off to travel around the world by bicycle. They left their home in Arizona in March 2002 and have been on the road ever since with no plans to stop. They have a website at downtheroad.org which includes an ongoing travel blog, short videos, and a photo journal. The Travis' recently crossed through Kansas on their way to Omaha, where we spoke to them just before they were to embark on the RAGBRAI tour across Iowa. Theirs is an amazing story, and is documented in two books, The Road That Has No End: How We Traded Our Ordinary Lives For a Global Bicycle Touring Adventure and Down the Road in South America: A Bicycle Tour through Poverty, Paradise, and the Places in Between.
Here's a quick summary of the rest of the podcast, with links to more information:
Bicycling News:
The Tour of Missouri survived a scare recently, when Missouri Governor Jay Nixon threatened to freeze funds for the race due to a state budget squeeze. The Missouri Division of Tourism had set aside $1.5 million, and if the monies had been frozen, that would have resulted in the cancellation of this year's event, which was scheduled for the week of September 7th through 13th. Thankfully, after supporters of the Tour inundated the Governor's office with calls and emails, Nixon relented and released the funds for the race. [link]
In Topeka, Mayor Bill Bunten says he supports the concept of more bicycling in the city, but vetoed spending $15,000 develop a Topeka Bikeway Master Plan, labeling it an "unnecessary expenditure". In response, a group called "Complete Streets of Topeka" has started a grassroots campaign to raise money for the plan, and they're asking for $5 donations. [link]
From Jefferson County Colorado comes news of a major threat to bicyclists in that state. County commissioners there are asking the state legislature to draft a law that would allow counties to ban bicyclists from county roads. State law already gives cities that authority, but the law is unclear when it comes to counties. If the proposed legislation goes through, this would put a huge number of routes at risk, so Bicycle Colorado, the statewide bicycling advocacy organization there, is putting together a campaign to fight this dangerous proposal. [link]
Upcoming Rides and Events:
There are many more ride opportunities available nearby, so please view the regional calendar for a complete list.
Trail News:
This episode includes a review of the Lawrence River Trail in Lawrence, Kansas. This 9-mile trail is one of my favorites, with easy access plus a fast and smooth trail that is friendly to beginner cyclists while still offers plenty of challenges to more experienced riders. Plus, the scenery (you can see some images here) is hard to beat.
Bicycle Safety Talk:
We're trying something new in this episode, with a brief discussion of a bicycle safety topic. First off, we're going to talk about a type of collision called the "right cross", which is one of the most common types of collisions, in which a motor vehicle pulls out in front of a cyclist from a crossing street or driveway on the right side of the road, either due to driver inattention or mis-judgment of the cyclist's speed. We'll discuss how you can anticipate (and hopefully avoid) this type of collision. Thanks to BicycleSafe.com for the safety tips.

And thanks also to Mark Franzke, who's graciously provided original music for the Kansas Cyclist Podcast. You can find out more about Mark and his music and art by going to Banjodog.com.
As always, we hope you'll listen to the Kansas Cyclist Podcast, and consider subscribing to future episodes. We welcome your feedback, so please send in your comments or suggestions.