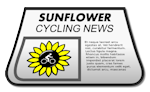 The Sunflower Cycling News is a periodic publication of Kansas Cyclist, featuring a compendium of hand-picked bicycling-related news items from Kansas and neighboring states.
The following is a recap of recent bicycling news from the region, as well as a look ahead to upcoming rides, races, and bicycling events coming up.
---
Bicycling News from Kansas
Manhattan Seeks Volunteers For Bicycling Videos
From Manhattan bicycle coordinator Danielle Vaughn: "During the summer we'll be making a lot of videos to help raise awareness for how awesome riding a bike can be, but we need your help! If you ride a bike for whatever reason (commuting, racing, just for fun, with your family, etc.) can we interview you? Email Danielle at vaughn@cityofmhk.com"
Cyclist's death should be a lesson for all drivers: don't kill people with cars
A excellent opinion piece from the K-State Collegian's Katie Goerl: "Wearing argues that cyclists put themselves at risk by riding on county roads — which, according to the same statistics, are far safer than urban roads to ride on — and suggests that instead, they ride in town or in an enclosed area. I would argue that drivers put cyclists at risk when they RUN THEM OVER WITH THEIR CARS. Ben Wearing is trying to blame the victim here, and that is not OK. Wearing's 'appeal' to cyclists is nothing short of shameful. In the wake of this tragedy, Wearing's choice to place responsibility for bicycle-automobile collisions on the cyclists is unacceptable." [link]
Managing Editor Dale Hogg of the Great Bend Tribune also weighed in with an editorial, Of pedals and petrol: "Sure, this is a time of year when many rural roads see more, and heavier, traffic. And, sure, those who opt to pedal their way around the countryside must be extra vigilant. However, cyclists live and work in these areas just like everyone else. They pay taxes to help maintain those endless ribbons of asphalt. They have just as much of a right to the roadways as anyone else, even though they have fewer wheels and don't have a throttle. It is unconscionable to blame a cyclist for incidents such as the sad crash that ended Kline's life. Instead, we should learn from it and continue such events as the rodeo to foster a better understanding between motorists and those who want to use pedal power instead of gasoline."
A Night to Help Recovering Rylee
"A fundraiser to benefit a Topeka girl recovering from a traffic accident will be from 5 to 8 p.m. June 22 at WantZ, 3118 S.W. 29th. The fundraiser is being coordinated by Kansas Karnage, a horror and sci-fi fan club. The event will raise funds for Rylee R. Robinson, 12, of Topeka, who was injured May 6 when the bicycle she was riding was struck by a car in south Topeka." [link]
The Shawnee County Sheriff's Office is still investigating the collision that nearly killed Rylee. She is currently at the Madonna Rehabilitation Hospital in Lincoln, Nebraska.
Arkansas City grades well on BAK
"Bicyclists on a tour across Kansas wrote glowing reviews of their visit to Arkansas City earlier this week, city officials said Friday. On Wednesday, the first 100-degree day of the year, the bicyclists pedaled into town, looking hot and tired. But they appeared refreshed and in good spirits when they left on a cooler morning the next day, observers said. The bicyclists' visit also had a positive economic impact, Hernandez added." [link]
The Arkansas City Traveler also has a nice photo gallery for the BAK visit.
Pittsburg Celebrates New Trail Grant
"A few months ago, we talked about a grant with KDOT for a hike and bike trail to connect the Watco Trail with the east side of the city. We have received about $730,000 in a grant to work on that trail. The first phase was east from the existing Watco Trail, then south along Michigan Street to the railroad tracks at Seventh Street. The second phase would swing the trail through Schlanger Park. The third phase would connect from Schlanger Park all the way to Fourth and Water streets. [link]
Garden City's Talley Trail project to get KDOT funding
"An extension of Talley Trail east from near Campus Drive, runs along the northern side of Kansas Highway 156 from near the Kwik Shop east to near Walmart. Steve Cottrell, city engineer, said the new extension will add to Talley Trail, the city's 3.5-mile, paved walking and bike path that winds through the city. It will provide a safe route for folks who walk out toward Walmart. It gets them across the ramp and signals with some pedestrian crossing indications." [link]
Kansas death penalty foe to bike ride for repeal
"A longtime opponent of the Kansas death penalty plans to bicycle 100 miles through northeast Kansas to push legislators to repeal the law. Bill Lucero will attempt to make the ride Tuesday around Topeka and Shawnee County. He is expected to be joined by other death penalty opponents and members of a local bicycling club." [link]
Kansas airman to bike Iowa
Four Airmen from McConnell Air Force Base in Wichita are training for RAGBRAI, which "gives Airmen a chance to showcase the service's fitness culture and recruit for enlisted and civilian positions in the Reserve, guard and active duty. "I'm excited," said Tech. Sgt. Noel Heyer. "I'm proud to wear the uniform as it is, but to be able to wear the AF bicycling kit, I'm very excited and just very proud to do it." [link]
Promoting Complete Streets in Barton County
"Be Well Barton County, a advisory group dedicated to promoting healthy lifestyles countywide, has been awarded an implementation grant through the Kansas Health Foundation's Healthy Communities Initiative worth up to $75,000 over the next three years. Be Well will use the funds in support Complete Streets and Safe Routes to School, nationally recognized programs that encourage local governments to consider bicycle and pedestrian traffic when planning street and sidewalk improvements. The focus will be to educate officials about retrofitting existing streets and transportation routes to accommodate walking and bicycling for transportation and recreation, and to improve access to community destinations." [link]
Hillsboro cyclist's training pays off
"Hillsboro resident Noah Collins said his passion for cycling goes beyond himself. '(Cycling) is the only thing that I've done that has really been a passion that is more than just for me,' he said. 'Whenever I get on the bike, I feel like it's what I'm supposed to do, and the Lord has just really put this passion in me that I've never had before for anything else.'" [link]
RAAM cyclists again passing through Fort Scott
"Once again, competitors in the annual Race Across America coast-to-coast bicycle race are passing through the area. For more than a decade, Fort Scott has been one of the race's time stations, where competitors are required to check in. RAAM projections indicate that riders in the various divisions will continue to pass through until Thursday morning as the head to the next time station in Weaubleau." [link]
Randy & Nova's Bicycle Scrapbook features a bunch of photos of RAAM riders passing through Kansas.
Regional Bicycling News
— Little Rock, AR: Potential Bike Lanes On South Main Street Spark Debate — "The City of Little Rock is holding a meeting Thursday to consider reducing the number of lanes on South Main Street to add bike lanes and calm traffic. On the other hand, some say adding bike lanes is not a good idea, including City Board Director Erma Hendrix, who doesn't agree with the way decisions are being made. She feels they do not reflect the desires of those in the community."
— Colorado: 'Share the Road' gets a boost — "Deadly conditions for bicyclists and pedestrians in Colorado have spurred the Department of Transportation to start a new public awareness program encouraging everyone to share the road. 'Share the Road, Friend' is directed at all road users — motorists, bicyclists and pedestrians. The campaign reminds road users that 'life has enough problems, sharing the road shouldn't be one of them.' The public awareness campaign will feature public relations activities and grassroots efforts throughout the state as well as billboards, print advertisements and radio pieces in Denver and Pueblo. The campaign recognizes that everyone is equal on the road. No single type of user is targeted or blamed for conflicts."
— Fort Collins, CO: Q&A: Fort Collins new FC Bikes Program Manager — "It took more than a year and a competitive nationwide search, but Fort Collins has found a new FC Bikes Program manager to take Fort Collins to the next level as a bicycling community. Tessa Greegor, 30, comes from Seattle where, for the past five years, she has been the principal planner for the Cascade Bicycle Club, the largest bicycle advocacy organization in the country."
— Des Moines, IA: Police will be in full force for RAGBRAI — "Des Moines police plan to dedicate an entire patrol shift — about 30 officers — to policing the route, campgrounds and planned festivities on Court Avenue. The remaining two patrol shifts will work 12-hour days to cover the rest of the city while the ride stops in Des Moines July 23 and 24. This is an event that requires a lot of police resources for the simple fact that it's not held from 9 to 5. This is a 24-hour event with a lot of special attractions sprinkled in. The Iowa State Patrol has a team of 13 officers who will follow the ride across the state."
— Missouri: Drivers urged to use caution as cycling race moves through Missouri — "The Race Across America cycling event moves through Missouri this week and drivers are urged to use caution around the cyclists. The scheduled race route includes U.S. 54 from the Kansas state line through Jefferson City. Cycles than travel on Missouri 94 to Herman and then Missouri 100 to Washington."
— Nebraska: Tour de Nebraska to cycle through central Nebraska: "The 26th annual Tour de Nebraska bicycle ride will take off from Doniphan on Wednesday. About 210 cyclists will ride in the five-day, 306-mile tour and camp overnight in Loup City, Callaway, Holdrege and Blue Hill. 'We will be riding on some quiet roads that wind through some of the most beautiful areas in the state.'"
— Nebraska: A couple of stories about the economic impact of BRAN (the Bicycle Ride Across Nebraska): In Gothenburg, BRAN boosts economy, "Riders had three nearby food options, at two local churches and inside the school, as well as restaurants and bars in town. Many also stayed in local motels and hotels. Pancakes and sausage and biscuits and gravy and oatmeal were available inside the school and local restaurants for breakfast. 'It was an opportunity to showcase our community and show the services we have to offer.'" In Brainard, Cycling event brings economic boost to rural town: "Just having the event in Brainard has caused a renewed sense of town pride. All week long, neighbors had been mowing, trimming and sprucing getting ready to show their best side for the cyclists. Though the economic stimulus isn't bad either. Organizers estimate that BRAN adds up to $14,000 in sales in every town they stop in."
— Plattsmouth, NE: Plattsmouth Police Department's Bike Patrol "is five-man strong and riding over the hills and dales in the community. The bikes have been particularly useful when patrolling the local parks and downtown area. 'You don't see the headlights or hear the engine like in a car,' Rathman explained. 'They do a good job of suppressing crime in the early morning hours.'"
— Enid, OK: Police are asking public to heed laws dealing with cycling safety on city streets — "Enid Police Department Sgt. Dustin Albright reminded drivers Oklahoma law requires vehicles passing a bicycle in the same direction to leave a distance of no less than 3 feet. Bicyclists also must follow Oklahoma laws and city ordinances."
Event News
In Kansas, there are two events on the calendar for this weekend:
— The John Brown Jamboree Bike Ride is an annual bicycle event held in conjunction with the John Brown Jamboree & Music Festival in Osawatomie, Kansas on June 22nd.
— Bishop's Bicycle Challenge is a fundraising ride to benefit the United Methodist Open Door, a Wichita agency offering food/clothing/shelter for those in need. 32K, 50K, and 100K routes. June 22.
Elsewhere around the region:
— Fort Smith, Arkansas hosts the True Grit Ride 100 on June 22.
— In Colorado, the Highest in North America Bike Adventure and the Mountain Top Cycling Club Experience Ride take place on June 22nd at over 8500 feet of altitude. The Bicycle Tour of Colorado begins on June 23rd.
— In Iowa, the Dirt Burger trail ride in Decorah, and Bike MS: Cruise the Cornfields begins in Des Moines, Iowa on June 22nd.
– In Missouri, the Tour of Kansas City begins in Kansas City on June 21st. The Ride the Fault Line tour begins in Sikeston on the 22nd. The Rock Island Ramble in Lee's Summit, the Southwest Missouri Tour de Cure in Republic, the Tour de Corn in East Prairie, and Tour de Monett roll out on June 22. June 23rd is the Rotary Ride: Pedaling Against Polio ride in Lee's Summit.
— Nebraska hosts the Nebraska United Methodist Bike (NUMB) Ride for Hunger tour starting on June 22 out of Elkhorn.
— Oklahoma features the Tour de Cure: Oklahoma City and the Tour of the Wichitas, both on June 22.
See also: Kansas Ride Calendar, Regional Ride Calendar
Bicycling Inspiration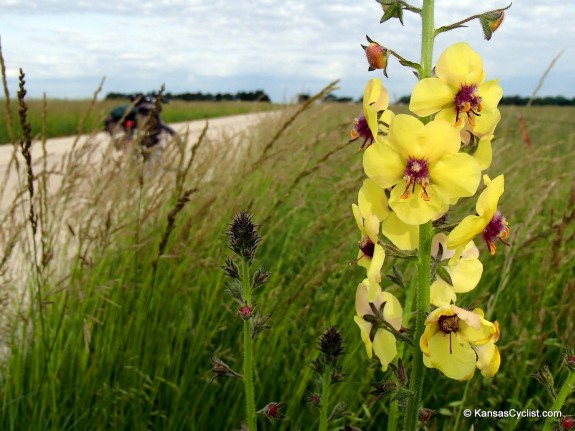 Always enjoy the roadside flowers!
This is a Moth Mullein (Verbascum blattaria). Blooms may be either white or yellow. It is found predominantly in eastern Kansas. This shot was from Allen County, near the town of Elsmore.
---
If you have a news item or upcoming event you'd like to share, please contact Kansas Cyclist with details.
Post tags: Arkansas City, Digest, Fort Scott, Great Bend, Hillsboro, Manhattan, Pittsburg