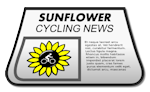 The Sunflower Cycling News is a periodic publication of Kansas Cyclist, featuring a compendium of hand-picked bicycling-related news items from Kansas and neighboring states.
The following is a recap of recent bicycling news from the region, as well as a look ahead to upcoming rides, races, and bicycling events coming up.
---
Bicycling News from Kansas
Bike Rodeos Gives Children Head Start on Safety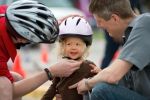 "It was a serious message delivered with a big dose of fun. Thousands of kids and their parents came to receive free bike helmets at Sunday's Helmet Head Bike Rodeo in Olathe, but they were also treated to music, food and plenty of child-friendly activities. But it wasn't just a matter of handing out helmets. Volunteers made sure kids got helmets that were properly fitted. Participants also got hands-on instruction on the rules of the road and their very own Helmet Head Bike Rodeo child driver's license." [link] (image courtesy of The Kansas City Star)
'Tis the season! Upcoming bike rodeos in Kansas include the Manhattan Helmet Fair on April 27th, the Garden City Bike Rodeo and Miami County Bicycle Safety Rodeo on May 4th, and the Kiwanis West Bike Rodeo in Kansas City on May 18th. See the entire list of Kansas Bicycle Rodeos (and the bike rodeo calendar).
Trego Uses Grant to Fund Bicycle Rodeo
The Heartland Community Foundation has awarded Healthy Living and Area Action grants, including a $600 grant to purchase bicycles and safety helmets for an upcoming children's Bicycle Safety Rodeo in Trego. [link]
Indian Creek Trail in Overland Park to remain closed until at least November
Warren writes: "I was able to call the KDOT construction office in Olathe and was told the new estimate for completion is now 'November of this year.' If you'll look back to my post from August 5, 2011, the original time frame for the closure was July 18, 2011 to March 2012. On May 17, 2012 I reported that the date had been pushed back to November 2012. In December I was told 'Spring 2013'. Here's hoping that it will be open some time in 2013." [link]
Editor's note: The closure of this incredibly popular path has been a fiasco since the beginning, with delay after delay, despite excellent construction weather for long periods of time. The provided "detour" takes trail users on a long, hilly route that includes either a stretch on a high-speed arterial roadway, or on a narrow sidewalk that was closed for several months. Not surprisingly, few people use the official detour, opting either to poach the construction site, or cut their ride short. This closure has been a great hardship for commuters who used the route daily for transportation. Very poor planning, and a lack of consideration for bike/ped traffic.
Wichita Area Trail News
Trail news from Wichita and south-central Kansas, courtesy of the Kansas Singletrack Society, including tidbits on Miller's Meadow, Fall River, and Air Capital Memorial Park Singletrack. [link]
Midwest Bicycle Swapmeet April 21 in Haysville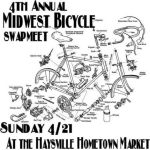 The 4th annual Midwest Bicycle Swapmeet is Sunday, April 21st, 2013, 8:00am till whenever, at the Haysville Hometown Market in Haysville, Kansas (just south of Wichita). This is a great chance to pick up a used bike, apparel, accessories, bike parts, etc. on the cheap. It's also a wonderful opportunity just to mingle with fellow bike lovers and admire the vintage rigs on display.
The event is free for buyers, $5 for vendors.
Dirty Kanza 200 Needs Volunteers
"The 2013 Dirty Kanza bicycle race will be held June 1 in Emporia, and volunteers are needed to staff the event from Thursday through Sunday that week. Slots from one to 4-1/2 hours are available, from early morning through late evening." [link]
Bicycle Recycling in Shawnee April 20
"The city of Shawnee will host a community shredding, e-waste and bicycle collection event from 8 a.m. to 11 a.m. Saturday, April 20, at at the Jim Allen Aquatic Center, 5800 King St. The city will be collecting bicycles, which will be refurbished and redistributed through various community service organizations." [link]
Regional Bicycling News
— Bentonville, AR: Bentonville Parents Lead "Bike Trains" to School — "Bike Bentonville's director Alan Ley says the goal is to teach kids healthy habits, while reducing morning traffic around schools. Hopefully by the end of next year it will be more of a habit. They're less hyper when they get to school, and I think they have a very good sense of accomplishment when they do something like this."
— Denver, CO: Denver City Council sets pedestrian/bicycle safety as top priority for the coming budget — "Recent high-profile hit-and-run crashes that have killed pedestrians and increasing interest in creating a more walkable and bike-able Denver prompted the council to order the budget office focus on improving the city's pedestrian and bicycling infrastructure. 'We need to figure out a way to help people get around and not use cars as much.'"
— Des Moines, IA: 2013 Mayor's Annual Ride for Trails — Des Moines Mayor Mayor Cownie hosts a ride to support recreational trails in the city. "Over the last 10 years this ride has raised over $100,000 for improvements to Des Moines trails!" It's always great to see a mayor actually riding a bike!
— Oskaloosa, IA: Volunteers Enhance Trail Site — A local service club is making improvements to a facility along the Mahaska Community Recreation Trail: "The Rotary club joined together at the new gazebo trailhead just off of highway 92 to make additions. The gazebo already serves as a charming rest area however Rotary wanted to make it even more inviting with the additions of benches under the gazebo and a bike rack for parking a bicycle."
— Jefferson City, MO: The Missouri Bicycle and Pedestrian Federation held its annual "Bicycle and Pedestrian Day at the Capitol" on April 8th. In addition to meeting with legislators, the group presented awards to "honor a number of Missourians who have done amazing work to promote bicycling and walking in their communities, across the state of Missouri, and nationwide." See photos.
— Joplin, MO: City manager announces trails, street projects — "Completion of Joplin's walking and bike trail system and work to begin repairing damaged streets were announced Monday night by City Manager Mark Rohr. Joplin's trails system will be extended, with plans calling for construction of nearly 20 more miles connecting the south and central sections of the city to the north. The trails expansion is important, Rohr said, because it will improve the city's quality of life."
— Lincoln, NE: The University of Nebraska-Lincoln earned a silver-level Bicycle Friendly University designation from the League of American Bicyclists. No Kansas universities have made the grade yet. [link]
— Omaha, NE: Talking with: Omaha bike coordinator — "The big picture is to make and connect trails, bike lanes and all facilities to make our streets safer for everyone. We all live in this great city, and we all need to do our part. Although it seems like progress takes forever, we have a ton going on and a ton more in the works. Our transit system is improving, our trails are getting connected, and more bike facilities are beginning to pop up. Watch out, Portland."
— Lawson, OK: Students introduced to biking adventure — "Park Lane Elementary School physical education teacher Ken Gray is introducing his students to off-road, two-wheeled adventure with a unit on mountain biking. Fourth- and fifth-graders at Park Lane are participating in the program, which teaches them to safely ride mountain bikes on trails. Last week, the kids took to a bike trail behind the school to practice their riding skills. Gray said the bike bath was scraped for them by the City of Lawton. It's a loop, around four-tenths of a mile long, that goes around a pond. It includes some good bumps, a culvert, and plenty of steering practice on some switchbacks. After some rare rains, the trail was also slightly muddy."
— Stillwater, OK: Oklahoma State University program takes students for a ride — "Before she starts her day, Gradney visits the Multimodal Transportation Facility on Hall of Fame Avenue and checks out a heavy-duty Worksman Cruiser, one of a fleet of 30 bicycles now available for rent as part of the Orange Ride program at Oklahoma State. Bikes rent for $2 per day, $8 per week or $30 per semester. The rental fee includes a bike lock that renters can use to secure the bike while on campus. The Orange Ride program is not just for OSU students. Anyone interested in renting a bike can visit the Multimodal Transportation Facility and fill out a registration and waiver form or call 405-744-2453."
— Tulsa, OK: Putting Disadvantaged Tulsans On Wheels — "If you don't have a car in Tulsa, you're in a lot of trouble. Everything from working to seeing a doctor becomes very difficult. But there's a unique group that's working to help disadvantaged people with another option. Transportation experts estimate that 17% of the people in Tulsa, don't have access to an auto. So, the Tulsa Hub is giving them a chance to earn bicycle transportation with volunteer work. Those who take part, earn bikes by working in the Hub's shop and by taking a bike safety class."
Event News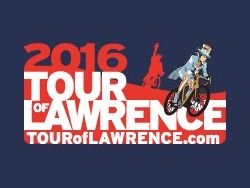 — April 20th is the Camp Alexander MTB Race at Emporia's Camp Alexander Trails, with a 5K walk or run and 10K and 20K bike races.
— The Osage Prairie Bicycle Tour is April 27th, and raises funds for youth organizations in Parsons, Kansas. 15, 40, and 70 mile options.
— The Riley County Police Department is hosting a Community Bike Ride on April 28th in Manhattan. "Come meet representatives of the Riley County Police Department and enjoy an afternoon of exercise while celebrating Bike Month in Manhattan."
— The Garden City Bike Rodeo is May 4th in Garden City, with a Bike Rodeo and Obstacle Course conducted by the Garden City Police Department, and free Bike Helmet Giveaways from the Garden City Recreation Commission.
— The Kansas State Mountain Bike Championships are May 19th at Fancy Creek State Park north of Manhattan: Dirty Little Secret.
— The Cottonwood 200 is offering special hotel rates for out-of-towners prior to the start of the 3-day tour on May 25th.
— The 5th Annual 2013 Tour of Lawrence is June 28-29-30 in Lawrence, Kansas.
— The date for the 2013 Amelia Earhart Century has been announced: June 30th in Atchison, Kansas, with 35, 62, and 100-mile routes through the rolling farmland of northeast Kansas.
See also: Kansas Ride Calendar, Regional Ride Calendar
Site News
I've begun to post up reviews of some of the gear I've used over the years, including:
— Eureka Pinnacle Pass 2XTA Tent
— Magellan Scout Technical Tent
— Bell 15-Function Wireless Cyclocomputer
— Nashbar Deluxe Rack Trunk Bag
I have a few more items I'm currently testing, and of course have a lot more I plan to do in the future. Hope folks find these useful.
Bicycling Scene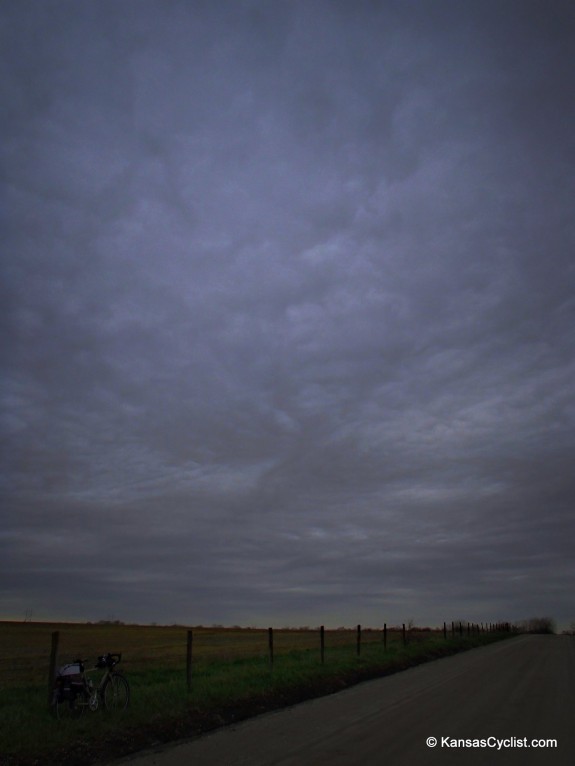 It feels like I've taken this same photo nearly every day this month … seems like we've been stuck in a loop of cool, dreary, overcast days. I'm ready for some warm sun.
---
If you have a news item or upcoming event you'd like to share, please contact Kansas Cyclist with details.
Post tags: Digest, Haysville, Manhattan, Olathe, Overland Park, Trego, Wichita