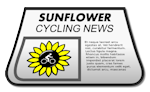 The Sunflower Cycling News is a periodic publication of Kansas Cyclist, featuring a compendium of hand-picked bicycling-related news items from Kansas and neighboring states.
The following is a recap of recent bicycling news from the region, as well as a look ahead to upcoming rides, races, and bicycling events coming up.
---
Bicycling News from Kansas
The National Bike Challenge Has Begun

The National Bike Challenge runs from May 1st through September 30th, with the goal of at least 50,000 riders participating, and riding at least 20 million miles. Are you participating yet? Get on your bikes and ride (and log those miles)!
Join the 2013 National Bike Challenge
Kansas Drops to #40 in 2013 Bike Friendly States Ranking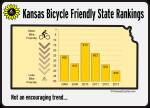 The League of American Bicyclists has just released the 2013 edition of their Bicycle Friendly State rankings, and Kansas has dropped all the way to #40, a precipitous fall from just three years ago, when Kansas was ranked #13 in the nation. It's our lowest ranking ever! How can we reverse this disturbing trend? [link]
Judge Denies Restitution For Paola Bicyclist's Death
The family of Johnna Feugate was seeking restitution from the driver, Autumn Bassett, who killed the 9-year-old bicyclist in Paola last September. "Judge Sheila Schultz ruled that the driver involved in a fatal accident last fall must pay fines for her traffic law violations, but she won't be required to pay restitution to the victim's family. Schultz ruled that Bassett will have to pay $115 for going 43 mph in a 30 mph zone. She also assessed a fine of $100 for inattentive driving. For the driving without insurance offense, Schultz assessed a fine of $500 and a 90-day jail sentence. The sentence was then suspended, and Bassett was placed on probation for 365 days." [link]
First Designated Bike Lanes Open in Salina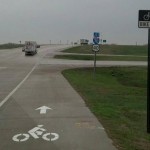 New bike lanes have been marked along a section of North Ohio Street in Saline County, just north of the city of Salina. Here's a first look at the new lanes, pavement markings, and signage. [link]
This is, hopefully, a first step towards a larger network of bike lanes and bike routes in the 10th-largest city in Kansas!
Community invited to dine with Dirty Kanza riders
"The Emporia Farmers Market is hosting this year's Pasta Palooza for the riders of the Dirty Kanza 200 bike race from 4 to 7:30 p.m. May 31 at St. Andrews Episcopal Church. Community members who would like to dine with the Dirty Kanza Riders are encouraged to purchase their tickets in advance. 'We've really enjoyed partnering with the organizers of the Dirty Kanza race to be a part of this fantastic event that brings so many people from all over the nation to Emporia.'" [link]
Topeka Bike Month Proclamation May 7th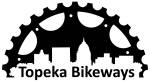 From Topeka Bikeways: "Join us May 7th at the city council meeting for the Bike Month proclamation and official logo unveiling. Party at Celtic Fox afterward with the presentation of prize money at 7:15. Come get an official logo t-shirt." [link]
Bikes Mean Business in Miami County Kansas
According the ride organizer for the recent Tour de Vino (MiCoVelo), the wineries along the route of the ride — Middle Creek Winery, Somerset Ridge Winery, and Nighthawk Winery — had their biggest retail sales days ever.
I can believe it. There were only about 120 or so riders on the tour, but there were a large number of bottles of wine sold (see pics and story here). Cyclists are lushes, apparently… (Also, the wines were really good.)
It's great to see cycling provide a significant economic impact to these small rural mom-and-pop agribusinesses. Bikes Mean Business, indeed! Even in rural areas.
K-68 Open Houses in Miami County

The Kansas Department of Transportation is hosting two public open houses for the Miami County K-68 Expansion Project. KDOT is planning to expand K-68 to a 4-lane expressway between US-169 and US-69. The meetings are in Louisburg (May 6, 5-7pm at the American Legion) and Paola (May 7, 5-7pm at the Paola Community Center). Bicyclists frequently ride along K-68, and cross K-68 at several points. The new $12 million dollar highway will need to support bicycle traffic with bicycle-friendly shoulders, safe bridge crossings, and safe intersection designs. Cyclists, please attend the open houses and speak up. The K-68 expansion is part of the K-68 Corridor Management Plan. [link]
Residents Support Bike Lanes in Kansas City, Kansas
Kansas City, Kansas is adding bike lanes and sidewalks to Merriam Lane, the primary corridor into Kansas City. This is a development that is long overdue, and will improve safety and convenience for bicyclists, pedestrians, and motorists. The city held an open house on April 30th to unveil the plans to residents, business owners, and people who travel the corridor, and many bicyclists took time out of their busy schedules to look over the plans and make comments. If you were unable to attend the open house, or have any additional comments, they can be sent to Project Engineer Troy Shaw at tshaw@wycokck.org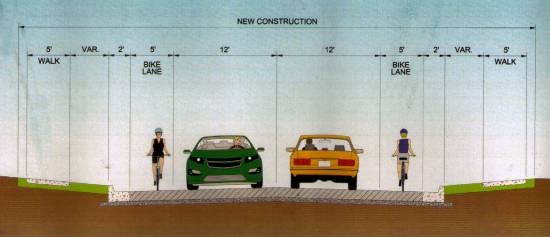 A few property owners along the route are apparently concerned that they may lose private parking space on the public right-of-way. Adding bike parking is a pretty easy way to mitigate that, since a large number of bikes can be parked in just one typical automobile space. During preliminary development of the plan, business owners along the corridor strongly supported adding bike lanes to the roadway. Let's hope they're not getting cold feet, and the businesses and city can work out a reasonable compromise that does not compromise on safety for everyone.
Regional Bicycling News
— Arkansas: Arkansas climbs ranks among bicycle-friendly states — "After being last in line in 2012 in terms of bicycle friendliness, Arkansas has made the second-largest leap in the country to accommodate those who put their pedals to the pavement, a news release from the state Highway and Transportation Department states. 'The bicycling culture in Arkansas has grown more popular in recent years and we are responding,' department Director Scott Bennett said in the release. 'Arkansas has made great strides toward becoming a more bicycle friendly state, and we need to continue to build on this momentum.'" Great to see a DOT director making statements like that!
— Fort Collins, CO: After ticketing Fort Collins bicyclist, Larimer sheriff's deputy under investigation over behavior — The deputy gave the cyclist a ticket for breaking an imaginary law, then broke the law himself when he passed the cyclist with inches to spare. "It's unbelievably different when the car that's stalking is you an officer who is supposed to serve and protect. It could have been an honest mistake, but I'm quite convinced he was making a point."
— Des Moines, IA: Group offers bicycle, walking tours — "To show off downtown's best, the Des Moines Bike Collective created walking and cycling tours that highlight everything from gardens and shopping to the Riverwalk. 'We forget what treasures are around us. And I think this really prompts us to slow down, to stroll, to have a conversation and to see some of the most remarkable things you'll find anywhere.' The 10 walking and cycling routes will get you moving while enjoying the city."
— Dutzow, MO: Bike Paths to Be Built on Route 47 — "The Missouri Department of Transportation has finalized plans to build pedestrian/bike paths along Highway 47, north of the Missouri River bridge, to connect Washington to the Katy Trail at Dutzow. The state agency plans to construct 8-foot-wide paved shoulders along both sides of Highway 47, from the bridge to Highway 94 at Dutzow. When the new Missouri River bridge is built, it will include a 10-foot-wide biking/pedestrian path on the west side of the span."
— Kansas City, MO: Bicycle Parking Now Allowed At Kauffman Stadium — The Kansas City Royals have updated their bicycle parking policy, and while they still provide no official bike racks or other secured facilities, they now allow bicycles to be parked at the stadium, at no charge. This is a step in the right direction. Thank you, Royals!
— St. Louis, MO: Cyclists Hope to Revive St. Louis' Velodrome, One of Only 27 Banked Tracks in U.S. — "In the 1960s cyclists from all over ventured to St. Louis to spin around the banked turns of the Penrose Park velodrome. Now, though, the track's surface is nearly un-rideable as cracks and bumps in the track are not only annoying but also dangerous. St. Louis Alderman Scott Ogilvie (Ward 24), a cycling enthusiast and local racer himself, estimates that the velodrome in Penrose Park requires approximately $625,000 in repairs."
— Lincoln, NE: UNL receives silver award from League of American Bicyclists — "Students at the University of Nebraska-Lincoln gathered on the Nebraska Union Plaza Wednesday to celebrate UNL's designation as a Bicycle Friendly University by the League of American Bicyclists. 'We're looking at it as a launch point. It gives us traction.' The committee plans to pursue a gold award in the future." [learn more]
— Stillwater, OK: City to install bike lanes — "Stillwater began the weeklong process of adding bicycle lanes to sections of 12th and Hall of Fame avenues on Monday, continuing to make the city more bicycle friendly. The department is looking to increase dedicated bike lanes throughout the community for cycling as a mode of transportation. 'Culturally, we need to get people past the idea of thinking that bikes are only for recreation and that you can use a bicycle for transportation in this town. This is a very easy town to cycle in once you get comfortable on the streets and in traffic.'"
— Tulsa, OK: Bicycling for Transportation Not That Tough — "Two years ago I drove everywhere. I hadn't ridden a bike in years and never even considered that it would be possible to get most places by bicycle. More than 6,000 miles later, I can say riding a bicycle for transportation is one of the best decisions I've made. I'm healthier than ever. My family was able to sell one of our cars. We're saving a ton of money, and I feel more connected to my community. And it was way easier than I ever thought it would be."
Event News
It's National Bike Month, so lots of cycling events to choose from! Events this coming weekend in Kansas include:
— The Bull Creek Bike Bash is May 4th in Spring Hill, with 20, 30, 50, and 60-mile route options in rural Miami County.
— The Kansas Fat Tire Festival is a two-day mountain bike event at Lake Wilson, on some of the most picturesque bike trails in Kansas. It begins May 4th.
— The Rope 'em Ride offers 5-100 mile routes showcasing the historical cathedrals in the Hays, Kansas area, on May 4th.
— Bike and Hike with the Birds is a May 4th gravel ride that explores the amazing natural beauty of Quivira National Wildlife Refuge near Stafford.
— BAMFAM on May 4th is part of a festival in McPherson which includes the ride, fun for kids, a picnic lunch, and drawings for bikes.
— Kids in Garden City can enjoy the annual Bike Rodeo on May 4th. The Miami County Bicycle Safety Rodeo is the same day in Paola.
— The Tallgrass Classic offers two days of competition against cyclists from around the country competing in a Criterium race and Road Race in Manhattan, starting May 4th
— The Sand Plum Bicycle Classic offers 12-mile, 25-mile, or 50-mile routes through Reno County (Hutchinson) on May 5th.
— Tour de Hope begins in Overland Park, in support of three local charities, with 15, 40, 62, and 69-mile route options on May 5th.
— The Tour of Topeka is a fun, free, and family-friendly ride to help introduce Topekans to their bike-friendly roads. May 5th.
Whew!
See also: Kansas Ride Calendar, Regional Ride Calendar
Site News
I've begun the process of adding multi-sport (triathlons and duathlons) to Kansas Cyclist. I've resisted this in the past, since I'm not much of a runner or swimmer, but the biking portion of these events make them appropriate for the site. Watch for links and event listings in the coming weeks!
Bicycling Inspiration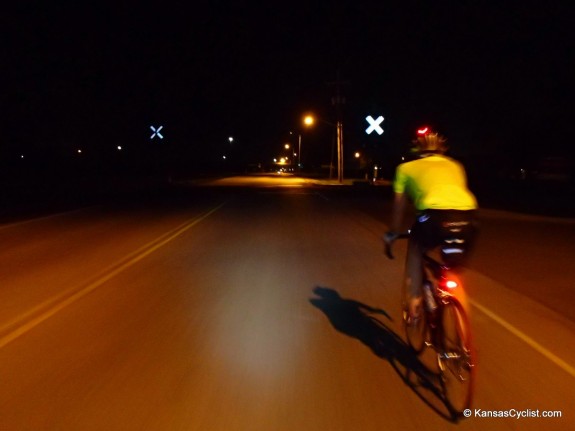 I'm a big fan of night rides. With the lack of traffic, and a soundtrack provided by insects and nightbirds, it's a totally different way to experience the world. And with good lights fore and aft, plus reflectivity, it often feels even safer than during the day. Cars and trucks at night usually give wide berth.
But night-time photography is hard!
---
If you have a news item or upcoming event you'd like to share, please contact Kansas Cyclist with details.
Post tags: Digest, Emporia, Kansas City, Paola, Salina, Topeka