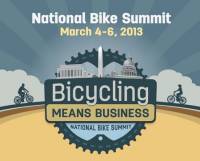 "Bikes Mean Business" has long been a theme of bicycling advocacy, speaking to the fact that bicycling is indeed a huge economic engine for the nation: Bicycling-related activities generate as much as $133 billion, supporting 1.1 million jobs and generating $17.7 billion in federal, state, and local taxes. Bicycling tourism bring millions of dollars to cities and towns across the country. Indeed, "Bicycling Means Business" was the theme of the 2013 National Bike Summit.
So far, in Kansas, those facts haven't made much of an impression. Unlike some other states, Kansas has not yet commissioned a bicycling economic impact study.
In contrast, other states in our region — Colorado (Total economic benefit from bicycling in Colorado is over $1 billion annually, Missouri (Bicycling is a billion dollar industry in Missouri), Iowa (a yearly impact of 364.8 million), Wisconsin ($1.5 billion annual impact of bicycling in Wisconsin) — have quantified the boon of bicycling.
Of particular note is the 2012 Katy Trail Economic Impact Report, which found:
The 400,000 annual visitors to Katy Trail State Park have a total economic impact of $18,491,000 a year, which supports 367 jobs with a total payroll of $5,128,000. The total value added to the local community from visitor spending is $8,204,000.
But now we're beginning to see this realization come to Kansas. Not only do bikes mean business, but Trails Mean Business.
Next week the Kansas Department of Wildlife, Parks and Tourism is hosting two community meetings — October 21st in Council Grove and October 23rd in Ottawa — to discuss tourism and business development opportunities along the Flint Hills Nature Trail in Kansas.
The Flint Hills Nature Trail is a 117-mile rails-to-trails project along the former Missouri Pacific line between Osawatomie and Herington. It has been developed, in sections, by volunteers from the Kanza Rail-Trails Conservancy. Last year, a $2.4 million grant was awarded to accelerate trail development. This year, another $1.9 million was added. Between these two grants, the expectation is that 90 miles of the trail — from Osawatomie to Council Grove — will be fully completed within the next few years.
Connecting that to the 58 miles of the Prairie Spirit Trail and Southwind Rail Trail (and potentially to Wichita via the Western Sky Trail and the Redbud Trail), to the Landon Nature Trail to Topeka, and you're beginning to get quite the trail network in Kansas.
With that goal in sight, the business and tourism communities are finally taking notice of the potential economic impact of trails in Kansas.
In fact, the two upcoming community meetings are being hosted not just by the KDWPT, but are being co-hosted by organizations that have never before taken a public interest in trail development in Kansas:
This is a big moment!
It might be the most encouraging sign we've seen in a long time that Kansas is really on the cusp of being a great bicycling state. Commuting, events, tours, tourism, they're all big pieces of that, but our burgeoning trail network could one day trump them all.
Learn more about the meetings from the Kanza Rail-Trails Conservancy: Fall 2014 Flint Hills Nature Trail Community Meetings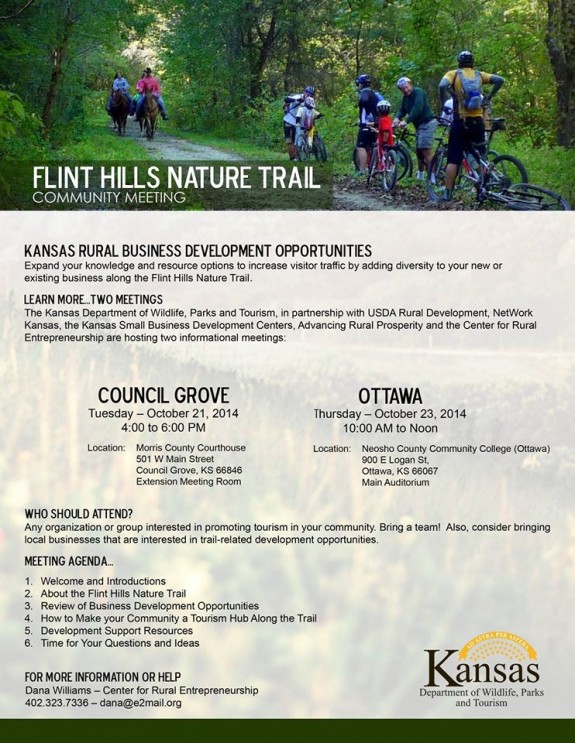 The Osage County News has additional information on the meetings:
Agencies schedule meetings to encourage commerce along Kansas trails

Outdoor recreation is booming in Kansas, and the Flint Hills Nature Trail and the Kansas River National Water Trail attract large numbers of enthusiastic trail-goers looking for nearby services and activities. What can be done to attract and serve this market? That's the central question driving a series of four community meetings to be hosted next week by the Kansas Department of Wildlife, Parks and Tourism (KDWPT).

Attendees will learn how to leverage the trails to grow their businesses, attract visitors to their communities and boost the local economy.
As the story notes, in addition to the two Flint Hills Nature Trail meetings, there are also meetings that focus on the Kansas River National Water Trail, on Wednesday, Oct. 22 in Wamego and De Soto.
Post tags: Flint Hills Nature Trail, Rail Trail