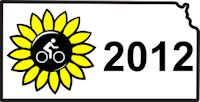 As 2012 ends, here's a quick look back, with news both good and bad to be remembered, and plans for the new year to be revealed!
Passings
We lost a heartbreaking number of cyclists in Kansas this year:
The driver who killed Johnna Feugate was charged with some minor traffic infractions, but none of the other deaths have resulted in any tickets or charges, that I'm aware of.
As far as I know, the hit-and-run driver who killed John Fuqua has not been found. I have not heard of any charges against the drivers who killed Roger Joyce and Paul Ziegler, in cases where it was pretty clear that the driver was completely at fault in their deaths.
Kansas also lost some great bike shops in 2012. The Hub Bicycle Shop in Hays closed on November 26th, and the state seized the assets of A Bicycle Service, which operated three bike shops in the Wichita area, on November 30th. (Incidentally, items from A Bicycle Service will be available at public auction on January 10, 2013.)
Positives
There were some feel-good stories as well this year:
Site News
The Kansas Cyclist web site continued to grow, adding several hundred pages of cycling news, events, and resources, and bringing the total to over 2900 pages of information about bicycling in Kansas and neighboring states. Who knew there was so much biking stuff to share in the heartland!
The biggest increase in content in 2012 was the addition of the Kansas Bicycle Camping Directory, which features a huge variety of places where traveling bicyclists can camp for little or no cost.
Traffic for the site increased, year-over-year, by about 20%, which is a good rate of growth, but finding income to justify the time I invest in the site has remained a challenge…
Nevertheless, I have plans to expand the site still further in the coming years!
Plans tend to evolve as time goes along, so I don't want to promise too much just yet, but suffice it to say that there's still plenty that can be done to help share the joy of bicycling in the Sunflower State.
Two definite features I'm planning to add are a "photo of the week" post, and a periodic news digest — not sure yet if that will end up being weekly, bi-weekly, or monthly. I also I hope to make an email newsletter available, for those who don't follow the RSS feed, and are not active in social media. Details to follow in early 2013…
Thanks for Following Kansas Cyclists, and have a great 2013!
Post tags: NewsBlog