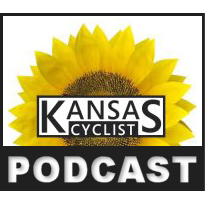 Episode 17 of the Kansas Cyclist Podcast features a look at the Topeka Community Cycle Project, a community bicycle workshop that will offer cyclists a place to work on their bikes, learn about bicycle repair and maintainable, and even earn a bike of their own.
We talk with founder Robert Fitzgerald, a law student at Topeka's Washburn University, who launched the project this winter. Robert modeled the idea after similar bike co-ops from around the country, which offer cyclists a place to work on their bikes, learn about bicycle repair and maintenance, and even earn a bike of their own through the innovative "earn-a-bike" program, in which a person invests 10 hours volunteering at the shop and earns shop credit. That credit can be turned in for a bicycle of their choosing from the inventory. Then that person works with a shop mechanic to overhaul the bicycle to make it fully functioning — in the process learning how to repair and maintain their bicycle. After the bike passes a safety checklist they can take it with them. At this point the person has invested in the shop and in themselves and has a functioning bicycle for transportation. If they run into any mechanical issues with the bicycle in the future, they have the skills to repair it and they have a space at the shop and access to the tools necessary to complete the repairs.
When the Topeka Community Cycle Project officially opens this spring, it will be the only such community bike shop in the state of Kansas. They're currently accepting donations of bicycles, components, tires, tools, accessories — basically anything bicycle-related, they can find a use for. You can contact them via email at topeka@cycleproject.org, via their web site, cycleproject.org, or follow them on Facebook and Twitter.
For this episode's "On The Scene" segment, we're doing something a different. This time out, the scene is a hospital bed, where we talk with Chris Love, who suffered a broken leg and broken arm in a bicycle accident in late February. We bring you this story not because there's anything really unusual in Chris's story (other than, perhaps, his incredibly positive attitude and determination to get back on the bike), but because this type of accident — in Chris's case, a wheel slipping on a wet board on an innocuous-looking bridge on an easy paved trail, with no cars or other cyclists involved — happens more often than we care to admit. Even for someone like Chris — a fit and experienced mountain biker, with a well-maintained bicycle, riding on familiar trails — things can happen quickly, with devastating consequences. Makes you think.
Chris is facing a long period of rehab, but he's looking forward to riding again. You'll want to listen to his story, and perhaps hit him up with a few words of encouragement at chris1281982@gmail.com or on Facebook.
Here's a quick summary of the rest of the podcast, with links to more information:

And finally, thanks again goes to Mark Franzke for providing the original music you hear on the Kansas Cyclist Podcast.
As always, we hope you'll listen to the Kansas Cyclist Podcast, and consider subscribing to future episodes. We welcome your feedback, so please send in your comments or suggestions or call 913-938-6855 to leave a voice message.